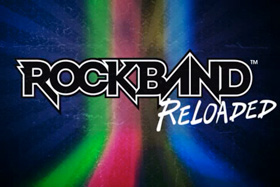 Rock Band fans have got another installment to keep them tapping — or perhaps, in this case, singing — to the beat with EA's recent release of Rock Band Reloaded in two versions, one for the iPhone [link] and one for the iPad [link]. This latest release is the first iOS Rock Band that features the (rather forgiving) new vocal recognition mode where gameplay consists of singing right along with the available tracks.
And, speaking of available tracks, there are 27 free tracks (some of which must be downloaded) along with four pay tracks that can be purchased at $.99 for a bundle of two. The complete list follows.
Free songs:
A Jagged Gorgeous Winter by The Main Drag *
A-Punk by Vampire Weekend
Am I Crazy by Little Fish *
Blood Doll by Anarchy Club *
Bodies by Drowning Pool
Call Me When Your're Sober by Evanessence
Can't Let Go by Death of the Cool *
Day Late, Dollar Short by The Acro-brats *
Dearest (I'm So Sorry) by Picture Me Broken
Entangled by Honest Bob and the Factory-to-Dealer Incentives *
Get Clean by Anarchy Club *
Heartbreaker by Pat Benatar
Hella Good by No Doubt
Hungry Like the Wolf by Duran Duran
I Get By by Honest Bob and the Factory-to-Dealer Incentives *
In Bloom by Nirvana
Kryptonite by 3 Doors Down
Night Lies by Bang Camaro *
Pleasure (Pleasure) by Bang Camaro *
Peace Sells by Megadeth
Remedy by Seether
Rock'n Me by Steve Miller Band
Seven by Tijuana Sweetheart *
So What'cha Want by Beastie Boys
The Perfect Drug by Nine Inch Nails
White Wedding (Part 1) by Billy Idol
Your Decision by Alice in Chains
Pay songs:
Drunken Lullabies by Flogging Molly *
Mean Woman Blues by Roy Orbison *
Requiem for a Dying Song by Flogging Molly *
You Got It by Roy Orbison *
( * denotes DLC tracks )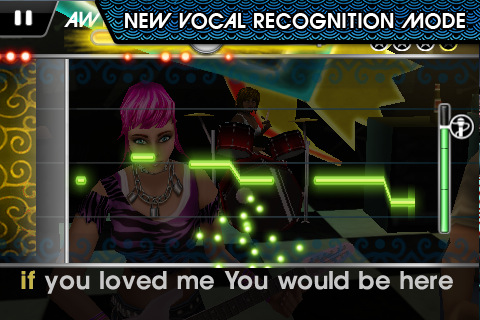 Rock Band Reloaded features Facebook integration, local (WiFi and Bluetooth) multiplayer, and a new Expert Mode for those wanting more of a challenge. The iPhone version supports the Retina display where available.