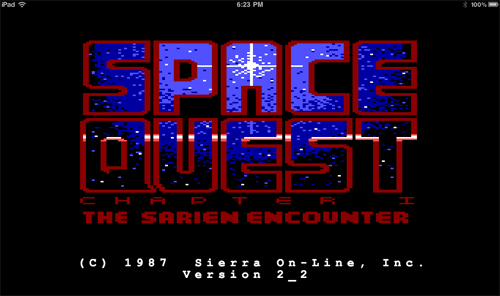 We've made a number of posts over the last few months regarding a fan-created, iPad version of Sierra's graphical point-and-click adventure Space Quest: The Sarien Encounter. What makes the effort particularly interesting is the fact that the game is entirely web-based. Load the URL in Mobile Safari, save a bookmark to your Home Screen and — voila — you're a tap away from playing a true classic on a device more suited to the style of gameplay than anything that was available back in 1986.
We're happy to report that developer Martin Kool has completed his effort and shared the public URL where iPad-toting space cadets the world around can get started on this excellent adventure. The game can be found right here: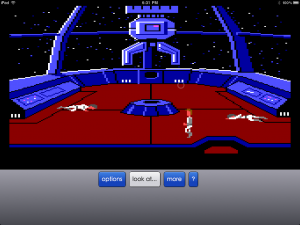 Our observations of a pre-release version stand true for the final product. You tap the home screen icon and the game loads completely seamlessly without any additional work. It's crazy just how fast and easy the whole process is. The first time you load it up, there's a small load time, but as soon as mobile Safari starts caching parts of the game it's just like playing the actual computer game. There's even multiple save slots, and accessing them is as simple as rotating the iPad in to portrait mode.
The game features the same, relatively blocky graphics as the original. And, to the retro gaming fan in me, that's a splendid thing — but getting them to render unaltered in the iPad's browser was no walk in the park, it turns out.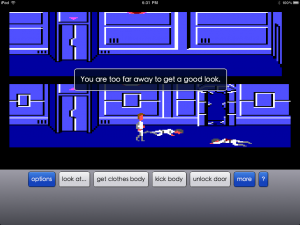 The only complain I could offer is the lack of sound effects that were present in the original — a challenge of in-browser, HTML / Javascript gaming that the developer indicates he hasn't addressed "yet." I spent a brief period with Space Quest in days long past, and I can say that what the developer has delivered here, despite that complaint, is all that I remember and then some. Now, I confess that I'm more of a King's Quest man at heart, but that's no matter; Martin recently indicated that once Space Quest was complete, he's moving on to The Black Cauldron, King's Quest, and Leisure Suit Larry.
I would encourage any iPad gamers who counts themselves among fans of adventure to give Space Quest for the iPad a try.
Fans of the effort should visit Sarien.net's forum where Martin is soliciting opinions on an official iPad adventure series as released by Sierra.