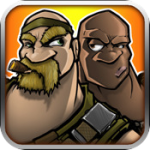 Glu's Gun Bros [Free] plays a lot like a typical dual stick shooter in that you're armed to the teeth with weaponry and need to survive in a battle against wave after wave of various baddies. Competition is getting tough in the dual stick shooter section of the App Store, with plenty of fantastic options to choose from, but Gun Bros offers a few features that makes it stand out from the pack. First off, it's free to download and monetized via in-game adds and optional in-app purchases for equipment upgrades. Also, instead of playing by yourself, you play with a computer controlled bro who assists you in slaughtering everything that moves.
It gets even cooler though. Utilizing Game Center, you can import your friends' characters in to your game which then substitutes your secondary bro with their bro. It's still computer controlled, but both you and your friend get all kinds of bonuses for helping each other's bros out.
Playing the game awards experience and xplodium which is then refined in to coins at the end of the level. Utilizing these coins and optional war bucks which you buy with real money, you can upgrade to 30 different types of guns and 50 different types of armor. Some items are only able to be purchased with war bucks, but if you're willing to grind up coins, you can still have a great time in Gun Bros without paying for anything.
If you're in to dual stick shooters, you need to give Gun Bros a try. It looks great on the Retina Display of the iPhone 4, and like any free to play game you can either go crazy with in-app purchases, or just play the game without paying anything. Either way, the Game Center bro sharing system is really cool, making Gun Bros worth checking out for that feature alone regardless of how you feel about freemium games.