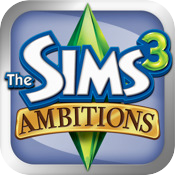 If the Sims is your thing, EA has just launched the latest Sims sequel onto the App Store. Sims 3 Ambitions offers a number of long requested new Sim-capabilities to the App Store game. The latest version actually lets you build your own house or business as well as have babies.
The new features, as listed by EA, include:
Career mode – For the first time ever on iPhone & iPod touch, turn your Sims' hobbies into fulfilling jobs. Will your Sim become a Firefighter? Rock Star? Artist? Teacher? Chef? Sports Star? Get down to business with new career-oriented goals, mini-games, outfits, and locations. Follow your Sims to work and see them get happier as they make their dreams come true.
Build Mode – Think big with the improved and expanded Build Mode feature. Resize, add, or delete rooms, floors, walls, doors, and windows as you make a new home for your success-driven Sim. Buy and sell furniture and objects. And now you can also build workplaces like a Bistro, a Preschool, or a Night Club for your musical Sim to rock.

Babies – Your most requested feature is here! For the first time on iPhone & iPod touch, your Sims can have babies! Feed them, play with them, and put them to bed! Watch Sims babies become Sims toddlers. Take them to the park, play hide-and-seek, or give them a little cuddle. Having Sims children changes everything!
Import and Export – Bring in your favorite Sims from The Sims™ 3 and The Sims™ 3 World Adventures for iPhone & iPod touch. Give them the chance to pursue their dreams, too!
Here's an early gameplay video:

Meanwhile, impressions are beginning to be
collected in the forums
.