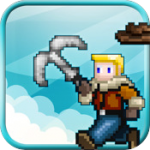 We were huge fans of Rocketcat Games' original title, Hook Champ [$2.99 / Free], and love Super QuickHook [$2.99] even more– Especially with the updates it has been getting. Super QuickHook came loaded with the fast paced endless Avalanche mode at launch, and the latest 1.3 update added Eruption mode. Eruption mode is even more difficult and requires either playing through most of the game or scoring over 4000 in Avalanche mode to unlock.
In addition, 1.3 adds six new playable characters. Three are unlockable in-game, and the other three are available via in-app purchase. Free characters include Gnomey, Aldora, and Hookbot (the DLC character from Hook Champ). If you're willing to shell out a couple bucks, you can buy Jake and Gunny (also from Hook Champ) along with the new Super QuackHook, the grappling hook equipped duck. Each character comes with their own unlockable grappling hook and unique hats.
They've also packed some new achievements in to the game, with rewards for unlocking some of the difficult ones. In addition, if you've been having performance issues, there's now a toggle in the options allowing you to turn off a lot of the extra effects to improve frame rate. Some members of our forums have been reporting issues with some of the achievements, but the developers have been quick to respond and are already working on another quick update to address these problems.
If you've beaten everything there is to beat in Super QuickHook, make sure you download this update and give the new Eruption mode a try. If you've yet to download Super QuickHook and want to know more about the game, take a look at our full review.