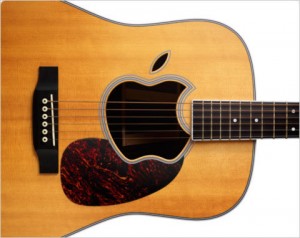 Apple's press event starts in just a few moments, which is currently being streamed live on apple.com. The catch is, you either need to be using an iPhone, iPod touch, iPad, or Safari on a Mac. As mentioned in our previous post, new iPods are expected, as well as some potential news regarding the Apple TV and even some changes to the iTunes store. In just a bit we'll find out just how accurate the rumor community really was this time around.
If you're at work, or can't get the stream to work, this post will be constantly updated with events that transpire at the keynote that pertain to things that App Store gamers would be interested in. For complete coverage, swing over to MacRumors.
---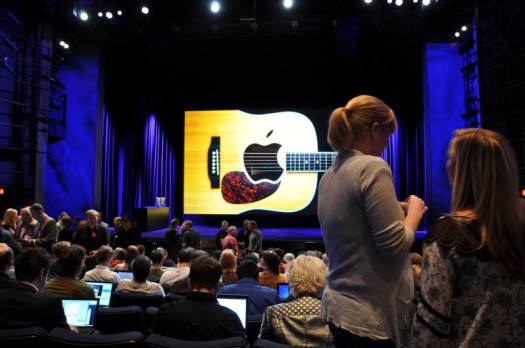 Our own Blake Patterson is currently in the convention center, and will be providing us with awesome photos of the event for those of you who can't get on the stream.. The broadcast of the event so far is holding up quite well, and has amazing video quality. We'll see if it holds up as the press conference starts in a minute.
At 12:00 on the dot, Steve Jobs takes the stage and points out Woz who is in the audience. Jobs starts out with an update on their new retail locations in France, China, and Great Britain, all beautifully engineered with Apple's standard store design in three iconic locations. Moving on, Steve gets right in to iOS. He describes it as a "revolution in touch and apps," boasting over 120 million iOS devices shipped so far and 230,000 iOS activations per day. New activations. 6.5 billion apps have been downloaded from the App Store, or, 200 apps every second.
Steve jumps right in to iOS 4.1, citing tons and tons of bug fixes including the proximity sensor, Bluetooth, and performance boosts on the iPhone 3G. Non-destructive HDR photos and the ability to upload HD video via WiFi is being thrown in along with the debut of Game Center.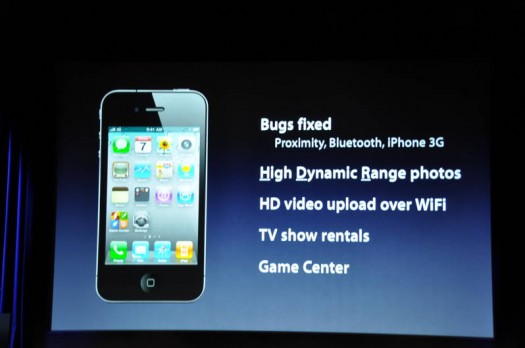 Game Center is "all about multi-player games". We've already heard about the features of Game Center, but Steve is going over how you can challenge friends, match up games, and compare scores with others. Games spotted as demo games include Angry Birds and others.
After that, he invited Mike Capps of epic games on stage to further demonstrate Game Center and reveal their first game for iOS devices which is just codenamed Project Sword. The graphics look absolutely phenomenal, and the framerate good as well. They move on to show how inviting players to other games work, along with a live multiplayer game with two players dueling with swords.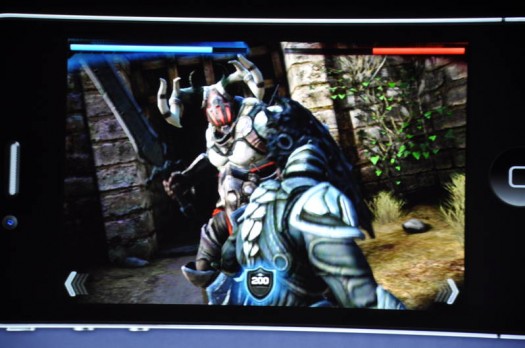 Jobs takes the stage again, and mentions that 4.1 will be available next week for the iPhone and iPod touch and will be a completely free download. Steve also offers a sneak peek at iOS 4.2 which is going to be "all about iPad" and will include Game Center as well along with several other new features. 4.2 also includes something called "AirPlay" which allows for media to be streamed from iTunes directly to the iPad. 4.2 will be released in November and will also be a free update for the iPad, iPhone, and iPod touch.
Moving on to iPods, Steve mentions this is a "music event" and quotes a staggering figure of 275 million iPods sold to date. Ramping up to the new iPod reveal, Jobs mentions that they release new iPods every year and this year is no different with new designs for every model. "The biggest change in the iPod lineup ever." The iPod Shuffle goes back to something that looks closer to the 2nd generation iPod shuffle with buttons, while maintaining the voiceover and playlist functionality of the previous iPod Shuffle.
The iPod Nano has shrunk even further, now has a multitouch screen, and looks exactly like we thought it would from the leaked cases that made the rounds on rumor sites earlier. Unfortunately, it seems that the widescreen display and camera have been axed. The touch interface looks just like the iPod touch, only down-sized for the smaller display. Of course the iPod touch is next, and since its release has become the most popular iPod.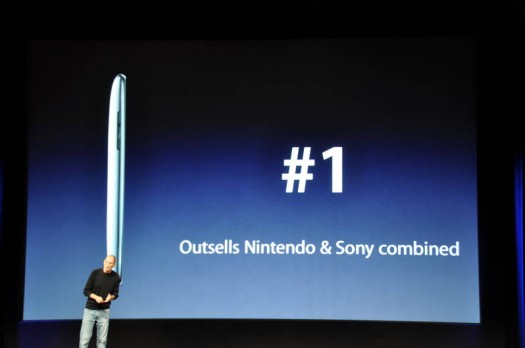 According to Steve, the iPod touch has become the #1 portable game player in the world. It outsells the Nintendo DS and Sony PSP combined, Currently the iPod touch holds over 50% of the marketshare for portable gaming, and has seen 1.5 billion downloads of games and entertainment apps just to the iPod touch. The new iPod touch is even thinner, surprisingly so.
The new iPod touch has the same Retina Display of the iPhone, the A4 chip, the 3-axis Gyro, iOS 4.1, and FaceTime with a front facing camera along with a rear camera capable of HD video. (As an aside, I just found what I'm getting everyone in my family for Christmas.) iMovie now works with the new iPod touch, and FaceTime works between both iPod touch users and iPhone 4 users. 3 models are offered, 8 GB, 32GB, and 64GB for $229, $299, and $399 respectively.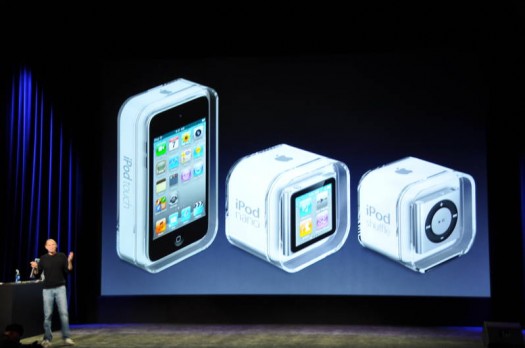 All of these new iPods will be available next week, and will be available for pre-order today.
Once again moving along, Steve starts citing statistics from iTunes such as nearly crossing the 12 billion song download threshold and 160 million accounts with credit cards and one click shopping enabled. iTunes is expected to surpass sales of CD's in the US next year, so they decided to ditch the CD in the logo with a new logo for iTunes 10 along with other refinements. Interestingly enough, Apple is taking on Last.FM with a new service called "Ping" which is a social network of sorts to see what your friends are listening to inside of the program.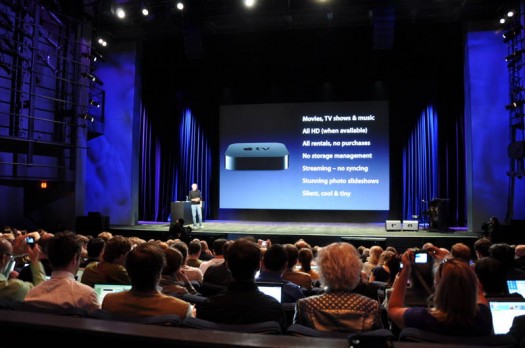 And here comes the inevitable one more thing… Apple TV. Introduced four years ago, it's never been a huge hit, but people who use them love them. The second generation Apple TV is being introduced today, and it's a fourth the size of the old unit with emphasis on renting streamed content instead of syncing, downloading, and storing content. The new Apple TV also supports Netflix streaming, YouTube, Flickr, and MobileMe for content sources as well as streaming media from your computer. The new Apple TV will sell for $99, is available for preorder today, and ships in 4 weeks.
And that's it! Hopefully we'll be able to get some hands-on time after the event to check out the new iPod touch and we'll be doing everything we can to get more details on Project Sword as soon as possible.