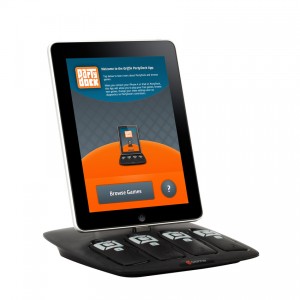 Since Apple enabled peripheral support for iOS devices in iPhone OS 3, we've been watching closely to see what creative control peripherals hardware developers will bring to the platform. The latest is the PartyDock, a multiplayer remote control dock for the iPhone 4 and iPad.
As TUAW reports, the PartyDock is an iPad charging dock that also docks with four individual remote controls and features video out (component) for connection to a TV, thought it's unclear as to what output resolution will be supported. Griffin indicates that various party, family, and casual games that utilize the PartyDock will shortly be arriving in the App Store. Three mini-games and one full featured game will be bundled with the device, in some fashion.
Have a look at Griffin's PartyDock PR shots:
While gaming is the obvious main thrust for this device, it's also a general media station of sorts. With the PartyDock nestled in your entertainment center, watching videos, photos, and listening to music on your hi-fi rig will be a thing of relative ease.
We're anxious to get our hands on the PartyDock and put it through its paces. It's encouraging that Griffin has a developer contact mechanism on their product site for those wanting to support the device in their apps. Hopefully iOS control accessories will become a plentiful and well supported option.