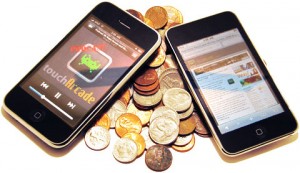 With the week coming to a close and the weekend almost upon us, why not load up on freebies to spend your time playing iPhone games instead of going outside. (Or I suppose you could play them outside too if you really wanted.) These free game promotions are temporary, with some running longer than others so if you're interested in any of these games, it's best to snag them ASAP. For a listing of all paid games that recently went free, check out this page on AppShopper.
The game that everyone should download that's free right now is Touch Racing Nitro [Free]. I thought the game was great in our review, and is totally worth grabbing now that it's free. Take a peek at the trailer:
Other cool free games today include:
Chop Chop Runner, $1.99 The ninja from Chop Chop Ninja is back in this fast-paced single-button sidescroller. See how far you can go while unlocking a hand full of achievements and finally submitting your best scores to the game's OpenFeint-powered online leaderboards.
Flipstones, $0.99 This recently released puzzle game puts players to the task of drawing lines to flip different triangular stones around the screen to form larger gems which each have their own unique power-up effect such as exploding or speeding up the game. There are tons of levels included to be solved, as well as an endless mode.
Jelly Invaders, Free An interesting take on the Space Invaders formula of shooting enemies invading from above. Jelly Invaders has two game modes, power-ups, cool graphics, and OpenFeint for online high scores, achievements, and all that other fun OpenFeinty stuff.
Starship Defense, Free This is an odd conglomeration of gameplay mechanics that go together quite well. In Starship Defense as the title implies, you defend your starship. I'm not sure if it would make more sense to compare it to a tower defense game or a castle defense game, but if you like either genres you should check this out.