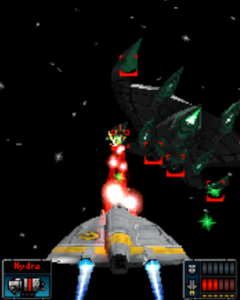 Back at WWDC we met with Fish Labs to see the sequel to Galaxy On Fire 3D [$2.99 / Free] running on the iPad. Before getting any deeper than this, it's important to know the roots of the Galaxy on Fire series so you can fully appreciate just how far the game has come. Both Galaxy on Fire and its sequel originated from J2ME games that weighed in at under 1 megabyte each in their original form. Galaxy on Fire 3D saw an incredible leap from the J2ME game, and its sequel makes even bigger advancements. Before looking at what the game has become today, take a good look at the original screenshot to the right, in all its J2ME glory.
Galaxy on Fire 2 is a space conquest game, with a massive galaxy map to explore, multiple factions to align yourself to, a dynamic economy, and tons of other neat features that all add up to an impressive amount of depth. The original Galaxy on Fire was something special, but the sequel seems to be exceeding the original in every way imaginable.
Generally speaking when we do a preview post like this, we'll just cherry pick two or three of the coolest screenshots that developers send us, but that isn't really possible with Galaxy on Fire 2. That just really wasn't possible with the batch that Fish Labs sent us, especially with them all being rendered at iPhone 4 Retina Display resolution:
Galaxy on Fire 2
is in beta testing right now, and Fish Labs expects to release both the iPhone and iPad versions of the game simultaneously in October. For more information check out their extensive
developer blog
or the
thread in our forums
. There is also some iPad gameplay footage in
our last preview at WWDC
, but that was so long ago it's hard to say how representative that even is of the game right now.
I can't wait.