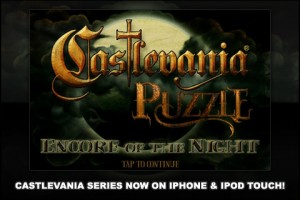 One of the most classic game franchises of all time, Castlevania, finally made its long awaited debut on the iPhone last month, but not exactly as fans had expected. Rather than the action-oriented, whip-lashing platformer that we've grown up with the last two decades, the iPhone iteration of Castlevania appeared as a match 3 puzzle game with RPG elements.
Dubbed Castlevania Puzzle: Encore of the Night [$1.99], the game takes place during the same timeframe as one of the most heralded entries in the series, Symphony of the Night. The majority of the game content stayed faithful to its inspiration in regards to equipment, enemies, and overall style, but the realtime fighting and platforming had been replaced with gem matching battle sequences reminiscent of Super Puzzle Fighter II Turbo. After the initial disappointment of Castlevania Puzzle not being the type of game we were used to, looking past that aspect and judging the game on what it is meant to be revealed a fun RPG puzzler with a wealth of content to play through.
While we really liked the game in our review, opinions remain mixed amongst fans in our forums. If you were ever on the fence about purchasing Castlevania Puzzle, it just got a whole lot cheaper to take the dive and check out the game for yourself. Konami is having a 60% off "Back to School" sale on the game, dropping it in price from $4.99 to $1.99. If you're a Castlevania fan you'll likely get two dollars worth of enjoyment out of the presentation alone, and if you're a puzzle battling fan there are very solid game mechanics in place for some satisfying battles against the computer. If you're a fan of both, then this is a very good deal for the amount of content it contains, and I recommend checking out Castlevania Puzzle: Encore of the Night during this limited time sale.