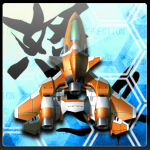 Last month we reported the announcement that DoDonPachi DaiFukkatsu is coming to the iPhone this summer from legendary shmup developer Cave, who have already released one of their classic arcade shooters to the App Store, the excellent Espgaluda II [$8.99/Lite]. Fans of bullet hell shooters were frothing at the mouth over the news, but unfortunately the trailer that came along with the announcement served as only a tease, and didn't expose much in the way of gameplay or information.
Now a few weeks later, Cave has released a brand new gameplay trailer for the game, now called Dodonpachi Resurrection, along with some screenshots and info about the enhancements to this iPhone port. Much like Espgaluda II, Dodonpachi Resurrection will feature a mode that is practically identical to its arcade counterpart as well as an iPhone specific mode. This new iPhone mode features a new scoring system and is tailored to gaming on the go. In addition to these two modes a third practice mode will be included.
The screen on the left is from Arcade mode, and the one on the right is from iPhone Mode and shows the Hyper Cannon at work (click to enlarge):
Based on the trailer for Dodonpachi Resurrection, fans of the genre should be in for the same frantic gameplay that Cave games are known for – hundreds of bullets flying onscreen, humongous enemies, and devastating super weapons. As such, just like Espgaluda II, the game will be exclusive to 3rd generation iPod touches (32 and 64 gig), iPhone 3Gs, iPhone 4, and iPad. Also, brand new music has been composed exclusively for this iPhone release by notable Japanese composers Kenichi Maeyamata and Shoichiro Hirata.
Another noteworthy aspect to Dodonpachi Resurrection is that the iPhone version will mark the first time the game will have appeared anywhere other than the arcade. Espgaluda II was ported from arcade to the Xbox 360 prior to coming to the iPhone, and it says a lot to the overwhelming popularity of the iOS platform and how well suited a game like this is to the touch screen that it is appearing here first. Espgaluda II absolutely nailed the controls, and set the benchmark for every shmup to come out for the iPhone since. If they can pull off those same tight controls for Dodonpachi Resurrection, which hardcore Cave fans consider a superior series to Espgaluda, then we should be in for quite a treat when the game is finally released.
The price for Dodonpachi Resurrection has not been set, and Cave still hasn't narrowed down the release past "Summer 2010", but rest assured that as soon as we hear anything more we'll be the first to let you know. In the meantime, drop by the thread in our upcoming games section and join in on the discussion.