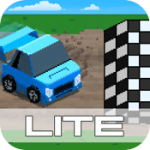 Back in May, Jared Bailey from NoCanWin.com released Cubed Rally Racer [99¢] onto the App Store. Inspired by NES-era isometric racers, Cubed Rally Racer was dubbed "RC Pro-Am meets Canabalt", and fits that tagline rather well. It put you in control of a rally car tasked with racing through randomly generated levels, all the while avoiding cows, gophers, and other silly obstacles on your way to the finish line. We really liked the game in our review, but noted that the controls can be hard to get used to and the overall difficulty of the game is rather high.
Because of those reasons, many gamers may have been on the fence over purchasing the game. Those fence-sitters should be happy to know then that a lite version of Cubed Rally Racer has just been made available. The full version features tracks made up of sections, with a maximum number of 99 sections in a track. Cubed Rally Racer Lite [Free] features up to 3 sections of track to race on, and a selection of the different unlockable track obstacles from the full version. It's definitely enough to give you an idea of whether or not you'll enjoy the full version, and there is an option to upgrade to the full right from within the game after practically every race.
What you don't get in the lite is any kind of OpenFeint integration, which is a huge part of Cubed Rally Racer as you can send challenges to friends and and compete on several different leaderboards. Also missing in the lite is the endless Pasture mode which acts as a more casual practice track, and Redline mode which is pretty much the opposite and has a red line chasing you down an endless course while you race, forcing you to keep up a brisk pace. These two modes have been added in an update since we reviewed the game, and players in our forums are absolutely loving them. In addition, the full version has many more types of track sections and obstacles available.
If you have never been able to pull the trigger on purchasing Cubed Rally Racer, definitely give this new lite version a try. It's the type of game that doesn't appeal to everybody, but to those who take kindly to it it's a real gaming treat. As an added incentive, the full game is seeing it's first ever price drop, down to 99¢ from $1.99. If you like what you see in the lite version, now is a great chance to jump on the full version of Cubed Rally Racer during this limited time sale.