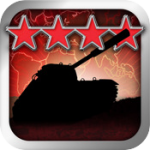 An official version of Risk [$4.99] just hit the App Store, and as I mentioned in the roundup from the recent EA event, this really seems like too little too late from the massive game developer. When third party software first graced the iPhone, it wasn't hard to see the potential that the touch interface had for board games, and this potential only grew as Apple implemented push notifications which allowed developers to create some extremely robust asynchronous multiplayer experiences. An absolutely fantastic example of this in the classic board game arena is Carcassonne [$4.99] which we detailed in our review not too long ago. In Carcassonne, developers The Coding Monkeys masterfully duplicated the board game while providing more single player and multiplayer features than I think anyone was expecting when we first heard of the game.
In Risk: The Official Game, EA brings a fully licensed version of Risk to the App Store with futuristic looking graphics, a decent soundtrack, and all the same army fortifying dice rolling gameplay that has been evolving for the last 50 years through various iterations of the board game. You can either play single player against AI opponents, or play local multiplayer with up to 6 players on a single device, or up to 4 players with their own devices via WiFi or Bluetooth. There's a decent amount of stat tracking and achievements in game, but that's where the bells and whistles stop.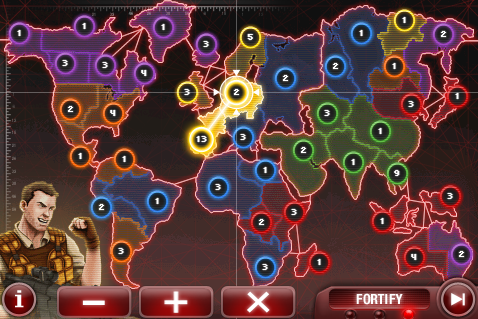 The problem with Risk is that the brand name is so powerful that I think that most people who are downloading it are just thinking, "Oh, finally, Risk for the iPhone!" without being aware of the many other better alternatives which aren't exactly the same as Risk, but scratch the same strategic dice rolling itch– Often with much more content, options, and game modes. If this applies to you, here are just a few of the better Risk knock-offs available on the App Store:
Lux DLX 2, $4.99 – This world conquest game which recently was updated to version 2.0 sports universal compatibility between the iPhone and iPad, single device multiplayer, challenging AI, and tons of new maps to play that can be downloaded within the game for free. If you want to try Lux before buying, there are two different free versions, Lux Touch, and Lux USA which are also universal apps.
Generals – Online Global Conquest!, $2.99 – Where Generals lacks in multiple maps it more than makes up for in the online multiplayer department. Like most Risk-like games, you can play locally on one device with human or AI opponents and Generals also allows you to organize online games over WiFi or 3G. Currently, games are played in real time online, but the developers are working on an update to add push notifications to allow for up to 20 games to be played simultaneously as well as more online game modes. The free version has ads and no multiplayer, but will give you a good idea of what you're getting in to.
Strategery, $1.99 – Also a universal app, Strategery boasts single player, single device multiplayer, and online multiplayer with push notifications. My favorite thing about Strategery is that it randomly generates maps of four different sizes, which always keeps things fresh since you need to develop new strategies on the fly instead of just going by your old standby of building up armies in Australia. Strategery Lite is also available, which doesn't have any ads but lacks a few gameplay options and online multiplayer.
Dominion, $1.99 – Like the other games already mentioned, Dominion has local and online multiplayer with either classic world domination mode or objective based games. It has multiple maps and a full featured online component with asynchronous push alert powered play, player statistics, and a bunch of other goodies. Unfortunately, Dominion isn't universal so if you don't want to run the game pixel doubled on your iPad you will have to spring for Dominion HD.
Unless you really really need to play the official Risk game for some reason, I'd really give any of the four previously mentioned games a spin if you're looking for some awesome online world conquest action. At least for me, board games are exponentially more fun when you're playing with real people, and if the success of Words With Friends [$2.99 / Free] is any indication, most tend to agree.