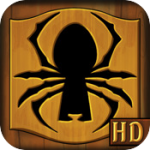 It was just a couple weeks ago that we were previewing the iPad version of the iPhone hit Spider: The Secret of Bryce Manor. At the time, developer Tiger Style had yet to submit this enhanced version of their critically acclaimed game. Well, good news Spider fans, as since that preview the game had been submitted and approved, and is now available for download from the App Store. As mentioned, this version includes some extra features that set it apart from it's iPhone counterpart. From our preview:
Like similar HD releases, Spider HD is little more than the iPhone game with the resolution of everything cranked up to fill the screen of the iPad. This allows you to see much more of your surroundings, making clues regarding the secrets of Bryce Manor much easier to spot than on the iPhone version, where your somewhat limited viewpoint could result in missing certain things if you weren't properly exploring some levels. Also, like most games built around fantastic art, the entire game experience is so much better in high resolution.
All four of the game modes from the iPhone game are included, as well as a brand new two player "sidekicks" game mode where two spiders are on screen, and each spider is controlled by the finger nearest to it. It's actually a surprising amount of fun, as like most games played in cooperative mode it's entirely up to you whether you want to help each other build webs, or simply race all over the screen trying to munch up bugs before the other player.
This developer video demonstrates the high resolution visuals, larger play area, and iPad exclusive same-device multiplayer:
If you're an iPad owner who's never played Spider, then now is the best time to become familiar with the franchise as Spider: Bryce Manor HD seems to be the definitive version of the game.  Besides the additions mentioned above, it also includes all the Director's Cut content that was added to the iPhone version towards the end of last year.  As always, further impressions are being collected in the game's forum thread.