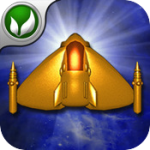 We've posted about Warblade [Free] a number of times before, both mentioning the game's immense development history beginning with the Amiga and announcing the lite version, but today's Warblade post is the best yet as for a limited time the full version of the game has dropped from 99¢ to free.
Warblade is basically the classic arcade game Galaga on steroids. In the game, you fight wave after wave of enemy, who seemingly spew endless amounts of power-ups, allowing you to fire a barrage of bullets back at them. Coins are also dropped by downed baddies which are used in between levels to buy additional power ups for your ship.
With OpenFeint for online leaderboards and achievements, a number of different control options, two different game modes, and everything else Warblade has to offer, this is a game you don't want to miss while it's free.