Ace Tennis 2010 Online
Eurocenter's newest release, Ace Tennis 2010 Online [App Store] is self-described as "the first real tennis game on the iPad."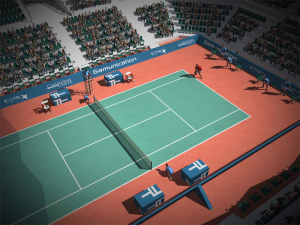 An iPad adaptation of Eurocenter's early iPhone release, Ace Tennis Online [App Store], Ace Tennis 2010 Online is an over-the-shoulder tennis title that features three different court types (grass, sand, and indoor) and matches against computer AI as well as online players from around the world.
The game features region tap controls (you control where your player runs on the court, but the swing is automatic) with tilt influencing volley direction. The iPad version features enhanced graphics that take advantage of the device's large screen and features gameplay similar to the original iPhone version, which saw a successful run in the App Store in its day.
I'm far more accustomed to triggering the swing as the main play dynamic in most tennis titles– so the gameplay felt strange to me.
The biggest feature of the game like its 2009 iPhone counterpart is online multiplayer play. Eurocenter is well known for their online multiplayer features across many of their games.
As the game just recently landed in the App Store, we haven't been able to really test the multiplayer functionality. Eurocenter is planning on launching the iPhone version of Ace Tennis 2010 in the coming few weeks which should expand the player pool.
App Store Link: Ace Tennis 2010 HD Online, $4.99
---
TowerMadness HD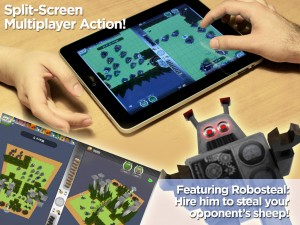 Limbic Software has just released the HD version of TowerMadness.
TowerMadness HD is an open-field or fixed-path tower defense game where you can create your own path to defend off the enemies (Aliens) from reaching your base (herd of sheep). The game has full 3D graphics with pinch-to-zoom capabilities to view the game from any angle, all the way down to first-person viewing of the action.
One of the most intriguing new features coming to the HD version is the split-screen multiplayer mode. The way it works is that each player is controlling different games, but they are fighting the same linked waves of aliens, allowing each player to have their own strategy. Sending waves in early will result in both you and your opponent having to fend off the incoming aliens. So if your confident in your defenses, you can overload your opponent with waves and win, but this could also result in your own demise if your not careful. There are also new multiplayer specific features, like 'Panic Your Opponent', where you can accelerate the aliens on your opponents side for a little while to hopefully get past their defenses. Another one is a new character called 'Robosteal', who will travel down your opponents path and steal a sheep if he reaches them, and give it to you.
If you haven't tried it before, a free version of the iPhone game called TowerMadness Zero remains available to download.