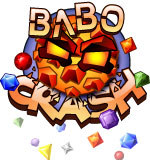 A few weeks ago I previewed Babo Crash from PlayBrain and I told you how it made me excited about match 3 games again. Well it's now been released in the app store so you too can experience the gem destroying joys of this game.
Basically, Babo Crash takes the standard match 3 formula and adds to it crazy power ups. I explained how it did that in my preview:
When you match more than three gems you create a hero gem. Each color of gem creates a different hero, when you use them in a match you activate their special ability. This is where the game gets good. One of the abilities creates a ball on the screen that you control by tilting you iPhone which destroys every gem it touches. There is something very satisfying about destroying gems in this manner.
The responses in our forums have been positive with a few reviews posted by our readers. Some people are upset, however, that there is no survival mode. Still, this is a great game to pick up if you are bored of other match three games but don't want to give up on the genre. It did refresh the way I look at match three games since it proves that you can make one that's visually stunning and features frantic game play.
App Store Link: Bebo Crash, $0.99