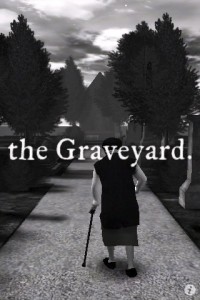 Thanks to the App Store I have been able to experience games I had missed the first time on other platforms. Dare I say it; I missed Monkey Island the first time around. Tale of Tale's, The Graveyard [$1.99 / Free] recently hit the App Store, it's over two years old and has even won awards but I never played or heard of it.
The Graveyard is not really game, I feel more comfortable describing it as interactive art or poetry. You can argue that's what games are but after playing this I feel that the word game doesn't do it justice. But to make writing this a little easier I will pretend I can call this a game.
You play the game as an old lady visiting a graveyard. Your only clear objective is a park bench at the end of the path. I could tell you more but I would spoil it for you. I know that sounds amazingly too simple, but when you play the game you will see there is so much more. I don't understand it myself, but the game really makes you think about life.
I would suggest downloading the lite version and giving it a try. I would also wait to play the game when you're alone in a quiet place to get the full effect.
The developer says that there are only a few differences between the computer and iPhone versions. If you do end up trying the lite and enjoying it, download the full version and it will introduce death into the game. I know that doesn't sound like much but it adds the sense of urgency.
App Store Link: The Graveyard, $1.99, The Graveyard Lite, Free
[via CreativeApplications.net]