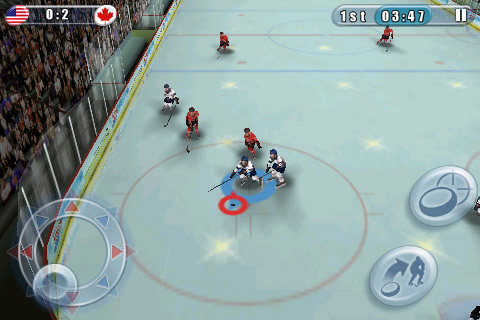 With the NHL playoffs quickly approaching and after an amazing gold medal game at this year's Winter Olympics a lot of people (and not just Canadians) are excited about all things hockey. I am one of those people, so when I found out that a new hockey game was coming out of the iPhone I just had to share it with you all.
Ice Hockey Nations 2010 is the first full hockey game to come to the iPhone. When I say full I mean, six on six hockey with all the trimmings. The developer, Distinctive Games, claims they will be able to pack all the action and strategy of the sport onto the small screen of the iPhone. They even went as far so to do live motion capture of real players for the game at Centroid 3D. We will not be able to see if that paid off until the game comes out, the developer has yet to release game play footage.
As you can probably already tell by the title, the game is not licensed by the NHL. So instead of playing with your favorite pro team you will have to pick your nation of choice out of the 14 nations featured in the game.
The game is set you be launched in March with a price tag of 4.99.
Features include:
The first full 6 on 6 Ice Hockey simulation game on iPhone/iPod Touch.
Take control using touchscreen d-pad and control buttons.
Make line changes at the touch of a button.
Sin-bin and powerplays
Real player movement animation using motion capture.
14 National teams to choose from.
Quick play, practice, tournament and league game modes.
No waiting for the Zamboni in between periods.
Screenshots: