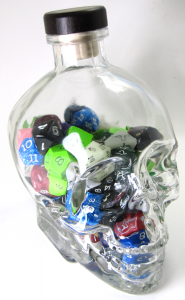 In 1941, Argentinian author Jorge Luis Borges published the first book featuring decisions the reader could make to change the way the story ended through two different branching points that asked readers to flip to a particular page depending on which option they choose. Several other early game books were released over the years, but it wasn't until the late-70's that the genre exploded with several different series of varying complexity– The most popular of which was undoubtedly Choose Your Own Adventure with over 200 titles that were almost always checked out of my local library.
Fighting Fantasy
Fighting Fantasy is a similar series that was released around the same time that distinguished itself from the rest of the game books by implementing a single player dice rolling system to determine the outcome of fights and other situations (like Advanced Dungeons & Dragons).
The first entry in the Fighting Fantasy family of books by Steve Jackson and Ian Livingstone hit the App Store recently and is a phenomenal fit for the iPhone. Fighting Fantasy: The Warlock of Firetop Mountain [$2.99] sends players on a treasure hunting quest to locate the treasure of a powerful warlock, who as you may have guessed, stashed it deep inside of Firetop Mountain.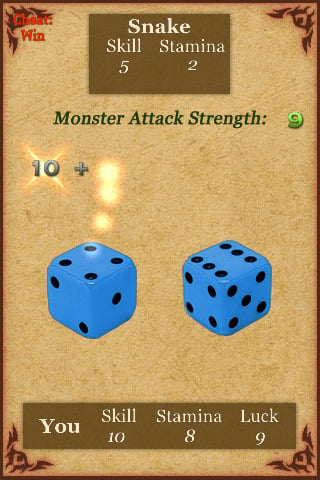 Fighting Fantasy: The Warlock of Firetop Mountain
Throughout the journey players collect keys, fight orcs and dragons, and finally face the warlock himself. Getting to the end is easier said than done, and much like the game books of my childhood, The Warlock of Firetop Mountain is filled with sudden death and countless ways to make mistakes, even if you're rolling your dice well.
Gamebook Adventures
Even though Fighting Fantasy books have nearly a 30 year lead on the recently released Gamebook Adventures, the team at Tin Man Games have put together an equally remarkable and entirely original virtual game book for the iPhone. Gamebook Adventures 1: An Assassin in Orlandes [$4.99] is the first in of an up and coming game book series by author S.P. Osborne. Much like the Fighting Fantasy books, throughout the adventure you will need to use dice to determine which fork in the story you take by winning battles and succeeding in various challenges.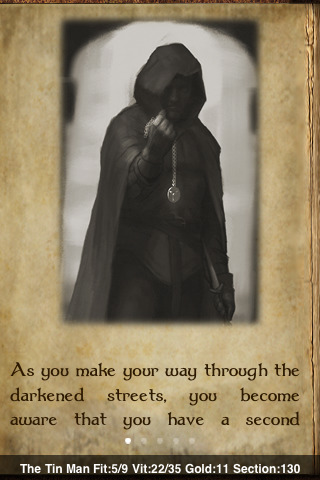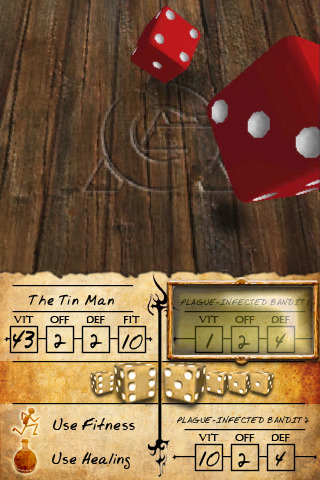 Gamebook Adventures 1: An Assassin in Orlandes
The premise of An Assassin in Orlandes involves an assassin who is on a killing spree eliminating the nobles of the city of Orlandes as a part of a massive conspiracy that is slowly revealed, assuming you make the right choices along the way. Gamebook Adventures features much better illustrations and dice animations, which honestly make very little difference in the overall experience since most of your time is actually spent reading.
Tin Man Games also released the following trailer:
Both titles play comparably and are both worth consideration, so if you're looking to try just one, simply pick the plot that most appeals to you. I'll be looking forward to new entires on the App Store from both series of books, and have my fingers crossed on both hands that we'll see iPad-optimized versions as both game books are practically begging for a bigger screen to be displayed on.
App Store Links: