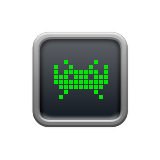 One of the most surprising things about the App Store is just how big a draw it has been for us old timey gamers like Blake and myself. Being in our mid 30's, we remember the days when processor megahertz were measured in the single digits and having most of these games on your home computer would have been amazing, much less on your a mobile device.
That's not to say you have to be over 30 to appreciate these titles. Anyone who has been gaming at all in the past 10 years is sure to find something that appeals to them.
Unfortunately, there have been some disappointments along the way, but here's a list of some good retro ports that we've run across in 2009.
The Oregon Trail – This isn't quite the same game you'll remember playing in grade school, but it's close enough. The core gameplay was preserved, while enhancing the graphics and making the gameplay a bit more accessible. (Article, App Store)
Dragon's Lair – Don Bluth's Classic 1983 laserdisc game that you may have drooled over as a child… but now it won't cost you $.50/play. Some of the Dragon's Lair experts have noted some subtle differences between it and the arcade version, but it's good enough for us mere mortals. (Review, App Store)
Space Ace – Don Bluth's followup to Dragon's Lair, play as Space Ace trying to rescue Kimberly and save Earth. An excellent adaption of the original laser disc game. (App Store)
Cobra Command – Another 1980s laser-disc classic, but this time you play as a pilot of a helicopter taking out terrorists. This one's been remastered with restored video, new sound effects and unlockables. (Review, App Store)
Commodore 64 – Manomio's fully licensed Commodore 64 emulator with licensed and legal game downloads. They are working hard to add new titles, but Bruce Lee and Laser Squad come free with the emulator. (App Store)
Archon Classic – EA's classic Archon: The Light and Dark was one of the big home computer hits of the '80s. It's chess-like, turn-based strategy meets arcade shooter action. It has been well ported to the iPhone, even if it's a bit easier than the original. (Review, App Store)
Ghosts'n Goblins Gold Knights – This isn't actually a port of any particular version, but instead an iPhone specific version of the game. It plays a bit easier, but does give the Ghosts 'n Goblins vibe if you can get used to the on-screen d-pad controls. (Review, App Store)
Pinball Fantasies – A classic Amiga pinball game with the 4 original tables. Amiga owning pinball fanatics were in love with this game. (App Store)
Myst – Published first in 1993, Myst was said to have accelerated the adoption of CD-Roms. This immersive graphical adventure really adapts itself well to the iPhone's interface. (Review, App Store)
Earthworm Jim – A remastered port of the 1994 classic platformer. Controls are as good as can be expected with on-screen d-pads. (Review, App Store)
Wolfenstein 3D Classic – Grandfather of first-person shooters. Great control system for the iPhone and packed with all the original levels and more. (App Store)
Doom Classic – id Software's classic first person shooter. The one that really started it all. It's been brought to the iPhone with care, and we still hope for Doom II and other maps to come soon. (Review, App Store)
Secret of Monkey Island: Special Edition – The classic remade with new graphics, voice acting and music. The ability to switch back and forth between old and new graphics is an added bonus. (Review, App Store)
Note we highlighted some of the best games that happen also to be retro ports in our 2009 Game Roundup including Beneath a Steel Sky, Sword of Fargoal, and Rogue Touch.