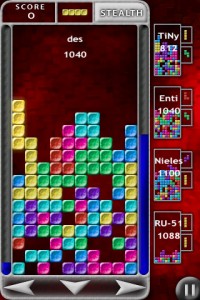 Xio Interactive's Mino [App Store] has all the gameplay of Tetris (and all the other associated clones) with one distinct advantage: Really cool real-time 5-player internet multiplayer.
At its core, Mino is the same line-clearing game you've been playing for years with two basic single-player game modes, standard and glacier. Standard mode offers a straightforward version of Tetris but with the addition of the "slow" button at the top of the screen. As you clear lines the bar on the right side of the play field slowly fills up which controls how long you can have the "slow" mode enabled. It's kind of a cheesy feature, but it has saved me from a few game overs in my time with the game.
Meanwhile, Glacier mode works has you dealing with near-constant intrusions of garbage rows of random blocks to clear at the bottom of the screen. There is also a "freeze" button that can be used to briefly stop these additional lines from spawning.
The bread and butter of Mino is in the multiplayer which can be played either over the cellular network or WiFi. Multiplayer pits you against up to four other people. As your opponents clear lines, garbage rows of random blocks are sent to your board (and vice versa). So your play directly affects other people's boards. While you can play with up to four other people, finding that many people online looking for games at once can be challenging. A newly release multi-player enabled Lite version, however, may improve that. When you do actually find a good game, it's just as fun as you would expect and the chat room you can brag in between games only adds to the enjoyment.
I could go on explaining this game, but I'd really recommend watching this demo video released by the developer which details every feature of Mino:
Obviously in a game like this, online community is everything. When I asked the developers if they felt gamers had anything to worry about with Mino being pulled from the App Store (and its community along with it) like most other games similar to EA's Tetris, this is what they had to say:
Xio Interactive is dedicated to protecting the online Mino community from any threats, legal or otherwise. We are prepared to use any and every resource at our disposal to ensure that Mino and Mino Lite remain on the app store, and that our game servers remain running at all times, including substantial monetary and personnel resources. Our customers can rest easy with the assurance that we are here to stay.
Either way, Xio Interactive also has a surprisingly full featured lite edition available. Mino Lite [App Store] has both the standard single player mode and you can play 30 matches of online play. So if you like these kinds of games, at least give Mino Lite a try.
App Store Link: Mino, $2.99 – Mino Lite, Free