As Gamasutra reports, Sega of America President and CEO Simon Jeffrey is leaving the company to join iPhone game studio ngmoco and head their new publishing arm.
Known as Plus Publishing, ngmoco's new publishing arm will partner with various other iPhone developers to allow them access to the studio's currently in-the-works "social player network."
CHRIS TESTING BEGIN

CHRIS TESTING END
Jeffery is excited about the move.
"I've been in the video game business for a very long 22 years, and I've pretty much worked in big, established companies that whole time since the beginning," Jeffery tells Gamasutra. And he says he's excited to see a "polarization" in the industry, an alternative to the hit-driven blockbuster model.

"People have stopped talking about the $25 million games, and we're talking about the $25,000 games," he says. "That shift in gaming has happened remarkably quickly, and I really want to be part of that."

"In a very, very short period of time, [Ngmoco has] built a nascent organization into something that's emerging as a potential leader in the gaming space on the iPhone."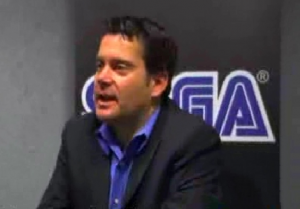 Ngmoco promises more details on Plus Publishing soon, but the idea seems to be somewhere in the neighborhood of Xbox Live for the iPhone.
Keene indicates that Plus Publishing doesn't require the capital or creative collaboration of the main label, but taps into the company's talent base.
Expect more "deep creative collaborations with the Secret Exits [Zen Bound] of the world," says Keene. "But we also found these groups of other types of developers and publishers who want to address the iPhone, and admired what we've been able to do in terms of focusing on the audience and device, and getting the most out of it," Keene explains.

Thus the Publishing Plus arm, to be headed by Jeffery, is "really our attempt to try to extend some leadership to these other areas, where there are great things to be done," Keene says.
The move to iPhone gaming of such a notable figure in the gaming industry is a clear indication of the iPhone's relevance in the mobile gaming space.  Stay tuned for more details on Plus Publishing soon.