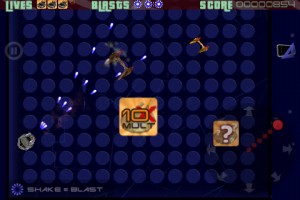 "Tilt to move, shake to blast, shoot to kill."
The developer's game description pretty much sums up this quick and rapid-fire shooter. The game drops you in the center of a grid in which you must stay alive. Besides the nicely polished retro feel to the game, it succeeds in the implementation of a very iPhone-centric control system.
Ship movements are controlled by the tilt while the direction of shooting is controlled by a circular pad. Simple dial in the direction you'd like to shoot. Finally, the a screen-clearing bomb can be invoked by shaking the iPhone vigorously. Overall, a very successful control system.
The game is also fun and cheap ($0.99). The developer promises more enemy types, modes and an online leaderboard in the future.
App Store Link: 2079, $0.99