Tag Archives:
Final Fantasy Agito
Upcoming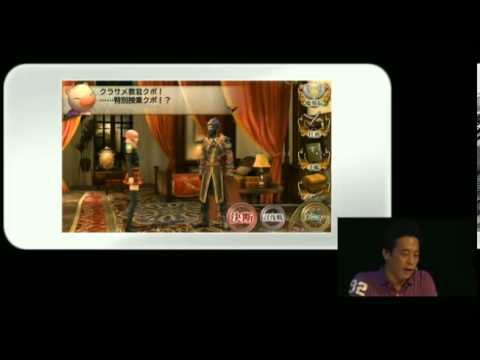 We were excited to see a new mobile Final Fantasy game was in the works when Square Enix announced Final Fantasy Agito earlier this month, but were saddened to learn that it was exclusive to Japan and there were no confirmed plans to release the game in other territories. However, the game's director Hajime Tabata revealed in an interview that Final Fantasy Agito would definitely be localized for other languages, though that didn't necessarily mean it would release outside of Japan. My gut tells me that it will be, though, and with that here's a lengthy demonstration of Agito from this year's Tokyo Game Show first spotted by VG 24/7 if you want a deeper look at the game...
Upcoming
It was just last week that we learned of the existence of Final Fantasy Agito, a mobile-exclusive RPG from Square Enix that's a spinoff of sorts to the 2011 PSP title Final Fantasy Type-0. The following day Squeenix released a video showing Final Fantasy Agito in action, which made me roughly ten thousand times more excited for the game. There was just one problem: like Type-0, Agito is set to be a Japanese exclusive title, with no plans as of right now to bring the game into additional territories. Dang it...
Upcoming
Yesterday we told you about Square Enix's plans for a mobile-exclusive iteration of their Final Fantasy series called Final Fantasy Agito. Set in the same realm as the PSP title Final Fantasy Type-0 from a couple of years ago, Final Fantasy Agito retells the story of Type-0 from the perspective of new characters which you create and control. It also utilizes some very interesting real-time ideas that have you building up your team during the single player campaign over the course of 10 days, and then taking them online to battle against tough bosses alongside other players and their teams. Today Square Enix has released a brief teaser for Final Fantasy Agito, and it looks really impressive...
Upcoming
Square Enix has a new free-to-play Final Fantasy game in the works for mobile, according to a recent preview in Famitsu and reported by Polygon. Called Final Fantasy Agito, it's set in the same universe as the Japanese-only PlayStation Portable title Final Fantasy Type-0 and will basically retell that game's story from the perspective of your own character that you'll create in Agito. Even more interesting is that Agito is meant to be played in "cycles" and beaten over and over, with decisions and events that happen in previous playthroughs affecting how future cycles will play out...