Category Archives:
iPhone 5
If you're anything like us, you've been treating your iPhone 5 like a jewel. You scrub the screen with only the softest of cloths. You put it to rest in its box instead of on a harsh surface like a bedside table or, gasp, desk. You look at it too much, admire its lines and curves maybe too often. Also, your friends think you're wicked weird...
Since many of you might be brand new iPhone 5 owners, and new to iOS in general, let me toss this nugget of wisdom your way: the App Store has a lot of sales. I mean A LOT. Developers have the ability to change pricing at their own discretion, so this means that prices fluctuate all the time and sales get thrown for even the smallest of reasons, or for no reason at all...
Seems the big focus with developers right now is updating their current catalog of games to be optimized for the new iPhone 5 4-inch screen, and eventually the new iPod touch screen as well. It reminds me of when the iPhone 4 game out and everybody was dying for Retina Display support in their current games. I think we'll be seeing a similar thing for a while now following the iPhone 5 launch where everybody's dying to have their favorite games become WIDER (or taller, I guess, depending on what you're playing)...
Gameloft's Asphalt 7 [$4.99] is among the many games that have been updated to support the iPhone 5. It doesn't play a whole lot different from its smaller-screened counterpart but once I was recording video of it the immensely faster load times became increasingly obvious. In loading the game from the springboard to getting to the menu as well as loading from the menu to the actual game is twice as fast on the iPhone 5...
Longtime Mac gamers should already be familiar with Pangea Software, who has been developing games for Apple's desktop computers for the past 25 years. However, in recent years and with the advent of the iPhone, they've turned their focus squarely on the iOS market. They were some of the earliest players in the game when the App Store launched in mid-2008, and although their games can feel a little dated at their core, they've always been really good about updating them for Apple's latest hardware and software advancements...
Sky Gamblers: Air Supremacy [$2.99] pops because it knows what it is: a super fast, over-the-top action game that plays it loose with physics and reality. That was our big takeaway from earlier this year when we went hands-on extensively with it following its surprise debut at the new iPad event where it helped show off that device's power and actual HD screen...
Make no bones about it, SpellTower [$2.99] is an awesome game. Created by Zach Gage of Zach Gage fame, it's a word game that has you tracing out actual words from a jumble. In general, the bigger the word you can trace, the more points you'll get, but sometimes you'll come across letters with bonus modifiers that can jack up your score and delete lines from the jumble...
Temple Run [Free] is a really cool game. It's a behind-the-back endless runner that tasks you with, as an Indiana Jones-type named Guy Dangerous, fleeing from demonic monkeys across the ramparts of a temple. As you flee, you'll have to avoid obstacles with touch-based gestures. You'll slide under fire, jump across pits, and have to turn when your current path ends quite abruptly. It's a blast, and man, does it move...
Over the coming weeks, you'll see a lot of "hey, this game has received iPhone 5 wide-screen support" posts. It's the nature of the beast, a byproduct of a yearly release cycle that developers need to keep up with as enthusiasts like us ditch their older, slower phones in favor of The Hot New Thing...
One of our app users' most anticipated games, an Unreal Engine 3-powered adventure game dubbed, simply, Lili [$0.99], is now out and available. High-profile games like this one usually see early international releases before they hit worldwide, but with the changes coming to the App Store and its support of the latest iPod touch and iPhone, it hit well and wisely before the usual Wednesday night / Thursday rush...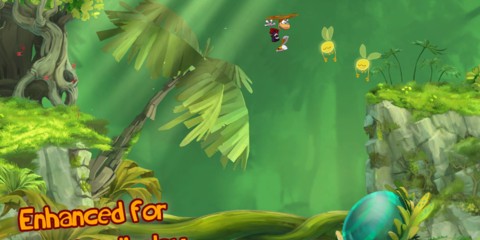 Rayman Jungle Run [$2.99] is now my favorite iOS auto-runner. Granted, I wasn't the biggest fan of the genre, especially those with procedural, unending levels. Luckily, Rayman Jungle Run offers 40 distinct levels that require players to jump, hair-copter float, wall run, and punch or kick their way to the goal. ..
If you've been following the Apple rumor mill, you likely already know nearly everything that was revealed today during Apple's keynote. Oddly enough, all of the leaks were shockingly accurate with the rest easily filled in with some educated guesses. Regardless, it's now all official, and as of this Friday you'll be able to preorder your shiny new iPhone 5...
The iPhone 5 is taller, faster, and an actual real thing, Apple revealed this afternoon at its much-anticipated event. And to our delight, Fire Monkeys' Real Racing 3 shared some of the spotlight, giving people in the audience a practical glimpse at the power of the device's new A6 processor and the look of an app in wide-screen 16:9...