Category Archives:
iPhone 5
Screen resolutions are getting a little bonkers. There's a lot. New iPad and iPad with Retina display both support retina; iPhone 5 rocks a wide-screen retina display; older phones and iPod touches support a mixture of retina standard high-resolution; And now there's the iPad mini screen, which sits in the middle. Its screen isn't retina level, but the pixel density is quite high considering...
One of the most high-profile and popular games on the entire App Store is Epic and Chair Entertainment's Infinity Blade II , the sequel to 2010's gorgeous gesture-based sword fighting RPG. Unsurprisingly, Infinity Blade II was even more gorgeous than the original, and fleshed-out most of the mechanics from the first game to make for an even bigger and better experience. ..
Sponsor
Heads up: Temple Run Brave's latest update is a good one. Version 1.2 of the behind-the-back endless running game sees the introduction of a new Wisp token mechanic. As you're running, keep your eyes out for a Wisp token. When you get one, you'll be whisked to the newly added "spirit world" and tasked with collecting Wisps. If you grab enough, you'll be rewarded with a slow motion power-up that can be used in the core game. Which is a good thing. We need all the help we can get over here. ..
We've been diligently keeping tabs on which of our favorite games have been getting updated for the new 4-inch screens on the iPhone 5 and 5th generation iPod touch, and today we have another batch of games that have received just that. However, there have been so many games getting the widescreen treatment it hasn't really been possible to cover them all, and as such you might not have noticed if one of your own favorites has been updated...
Most everybody should be familiar with Tiny Wings , developer Andreas Illiger's simple and beautiful endless runner that stole our hearts in February of last year and then went on to steal plenty of other hearts as it topped the iTunes charts for a long time afterwards. Over a year later, Andreas began to tease a new upcoming game which everyone was pretty certain would be a Tiny Wings sequel, but much to everyone's surprise and elation it was actually a massive 2.0 update to the original game which added significant new content and the long-awaited support for Retina Displays...
If you wanted to see Minigore 2: Zombies in action, we've got your back. Embedded below is another look at the follow-up in motion. The video, set in the same snowy field we showed you the other week, does a good job illustrating just how nuts this promises to be. Around 150 enemies can fill a screen at one time, and you'll be in charge of dismissing them all. Good luck!..
We've been steadily trying to keep up with any significant iPhone 5 updates, and with the new 5th generation iPod touches starting to hit the market there's even more of those beautiful 4-inch Retina Display screens out in the wild...
Good news: developers are still updating their games for iPhone 5. Even better news: as a result there are now more games you can play natively on your new-fangled phone...
If commands, inputs, or even stability were a problem for you in Lili , you might want to give the game a second look. Late last week, creator Bit Monster pushed out a key update that addresses all of the above -- and more. On top of some much-needed better swipe and tap detection and general stability fixes, the patch notes cite "sound improvements" and better enemy balancing as points addressed...
Tons of games recently received updates for iPhone 5. In some cases, the taller screen support has made a huge difference, as it can give users a bigger play area to dip their fingers into. Sometimes, the support is not all that big of a deal. You gotta look case-by-case, and that's what exactly we've been doing. Hopefully it's helping you out...
It's been a big last couple of days for iPhone 5 updates. Games of all kinds are now taking advantage of the taller screen. Some to great effect, some not so much. Since there's so many recently, we're going to do two round-ups this afternoon showing off these old games made new again via iPhone 5. This one focuses on portrait games. Our next round-up, which should hit later this afternoon, will focus on landscape games. Cool?..
Over the weekend, our app got taller! The official TouchArcade app [Free] now supports iPhone 5 resolution courtesy its latest update. After you grab the aforementioned update from the App Store, you can browse our selection of curated content without letterboxes, which is a pretty cool deal if you've got Apple's newest handset...
We've been enjoying our iPhone 5 for a little more than a week now, and it feels like I appreciate it more with each new day. The bigger screen is fantastic, and now that I've had some time to grow used to it it feels almost like it was always that size. It just feels normal, now...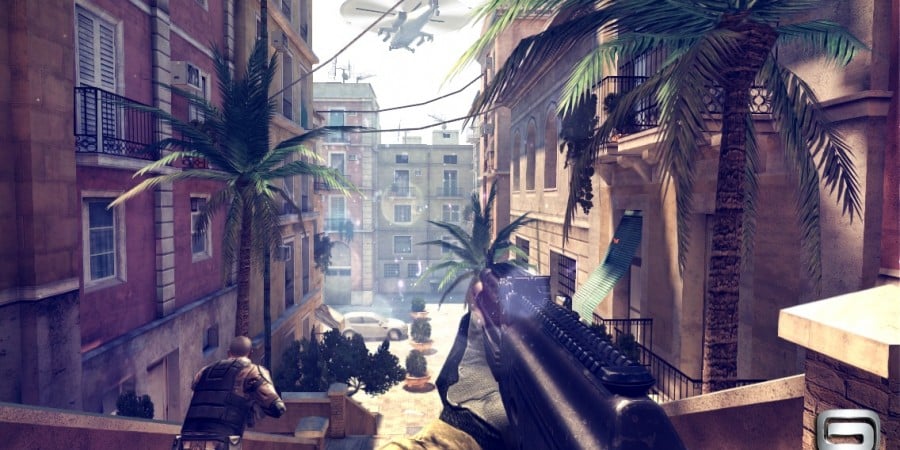 So, we've been thinking about Modern Combat 4: Zero Hour since its "leak" and subsequent actual reveal. And we've go some new details. Most notably, it will support iPhone 5 and its taller screen at launch. Presumably, the extra real estate will make a difference in a control sense, as the added width will give the virtual buttons more breathing room...
Super Monsters Ate My Condo is out and available now. It's an iterative follow-up to the original game that drills down to the series' core, improves it, and gives the user more of its intense brand of Match Three Meets Jenga action. We'll have a lot more evaluative things to say about it in a future review, but for now we'd like to point something out: this is one of the first games that actually looks and feels different on iPhone 5...