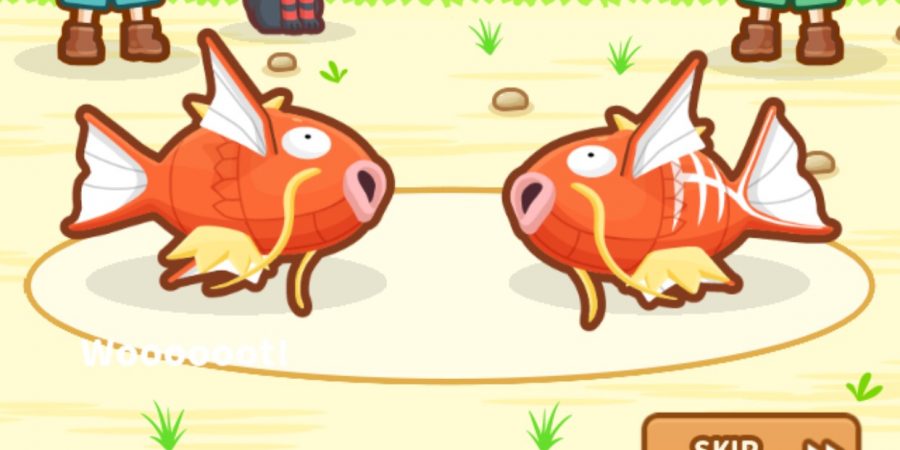 Hello everyone, and welcome to Musgravian Musings, a little space of my own where I can do some non-review reflections on recent game releases. In general, the featured games are ones that have caught my interest in some way or another, and will tend to be games that I didn't (and won't) review. This time around, I'm looking at the latest Pokemon game, Pokemon: Magikarp Jump [Free]. It's more entertaining than you might think, and a lot of that comes down to its contrasting tones. Let's take a closer look at this bizarre game...
Pokemon GO [Free] has been released in virtually everywhere in the world that isn't Canada or the UK, and everyone from policemen to grandparents have been getting involved in catching critters in your back yard, churches or wherever the App leads you (but hopefully not into oncoming traffic). While it's awesome to be able to see the creatures from your childhood in 3D and take pictures of them with your friends - at least when you learn how to use the tricky screenshot feature - with only the first generation of 151 available, many ardent Pokemon masters like myself are left yearning for the whole cast from Johto, Hoenn, Sinnoh, Unova and Kalos. To try and tide the wait before Nintendo add monsters from the later games as they have alluded to in the past, here are the ten Pokemon that I personally think would be great additions to Pokemon GO, partially for how they would fit into real life locations, but also based my own personal desires to see the favourites from my childhood be added to the game. If you disagree with some of my controversial choices, that's okay, just be sure to leave your suggestions for Pokemon and why in the comments - especially if it's Bidoof...
How many times can you do the same joke before people get tired of it and start to get annoyed? Three times, friends. The answer is three times. Nevertheless, like my courageous countryman Mike Myers before me, I am here a third, and most certainly unwanted, time to perform my comedic stylings. Yes, it's yet another joking non sequitur article about Slither.io [Free], the thrilling multiplayer Snake take-off that was all the rage last weekend. But this time, we've got Angelina Jolie, so I have confidence everything is going to be A-okay...
What, another one? Well okay, Shadowy Consortium, you're the vaguely-defined and sinister bosses. Hello, friends! Since my prize-winning investigative journalism piece on the differences between Slither.io [Free] and peanut butter went over so well, I've been asked to write another. The problem is that I'm pretty sure I emptied all of my rounds into that hard-hitting piece, leaving me in an awkward position. So, like all people who have no idea how to entertain an audience, I'm going to resort to showing you random videos and some pictures I have laying around. I suppose the catch here is that only the videos are Slither.io related, so I hope you like weird or interesting food packaging from Japan!..