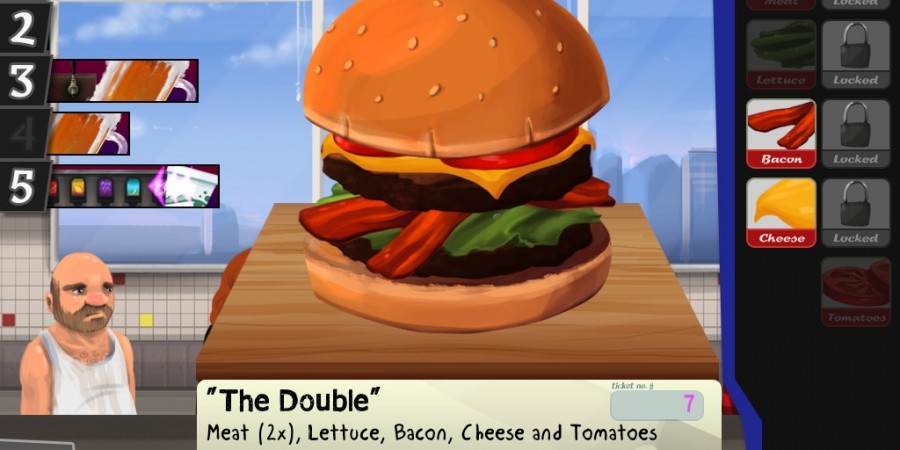 Cook, Serve, Delicious [$4.99 (HD)] heats up the hardcore restaurant simulation genre to a scorching level of challenge and innovation. What may be too hot (and too bitter, frankly) to taste, this PC to iPad port is terrific to the touch, even if it trades some of its thrill for easier controls...
Shadow Love [$3.99] is exactly the kind of game you'd expect from a developer named Strawberry Gohan (Japanese for "rice," in this instance). This familiar-feeling platformer transforms into something visually and mechanically enchanting, as a world of hand shadow puppets comes alive. Sharing many of the hand shadow puppet enemies and interactive backgrounds in detail would spoil the fun, but the appearances of a four-armed shuriken and finger-firing bosses should coax you to try another stage...
Micro Miners [$1.99] feels a bit crude and dirty in more ways than one, and it's such a better game for it. It's not just because the game has a "swearing" option for these hard-working miners to vent their frustration, isolation, and violation. I found myself waist-deep in lo-fi, pixelated dirt and several hours of my life gone in a flash. With over 40 lengthy levels, I easily became hooked on the intense, arcade-style digging, with almost every stage introducing some new and exciting twist. ..
Monkey Labour [$1.99] developer Dawn of Play delivers again with a touch-based Tetris-inspired game that finally nails its controls, even if it's all purposely done backwards...
Reflec Beat + [Free] feels like the Tron equivalent to a one- or two-player rhythm battle game. You're not zooming on bikes, but all the flashing neon, the flinging of note-pucks, and high-energy music makes each round feel like the stakes are high and that the winner painfully earned their survival. This is how you do touch-based rhythm games, on the iPad, anyway...
Streaming Colour Studio's Finger Tied [$2.99 (HD)] provides some of the finger sliding sensations of Fingle but tests players' speed as well as their dexterity. In over 100 levels, your fingers must make it from point A to point B as quickly as possible, without lifting from the board or moving out of bounds...
Michael Brough's O [$1.99 (HD)] is a high speed, all fingers-on-deck two-player game so ingenious that it'll make you wonder why no one's created it sooner. O feels like a classic board game evolved to make use of the large touchscreen. The goal is to fling circles of the same color into your score area until you reach 70 points; the value of each circle increases by one each time you combo. The secondary goals become breaking your opponent's color combo and stopping other colors from entering your point area...
Mango Down's Catch-22 [$0.99] is a mesmerizing, one-button arcade game that has you constantly facing your toughest opponent: yourself. The goal is to increase your score by gathering the orange orbs and avoiding the oncoming ball. Each round you survive increases the multiplier and the amount of orbs to collect. Once you gather all the visible orbs, you "switch" players, and the jumps you make become the path of your enemy-self. This alternating dance plays out until the two balls crash...
Tobias Neukom's LiquidSketch [Free (HD)] for iPad 2 and 3 is a gorgeous water physics puzzler that does things quite a bit differently, to its favor, than Where's My Water? and Sprinkle. Players intimately interact with the liquid in 90 puzzles based on six different stages and four game-changing mechanics...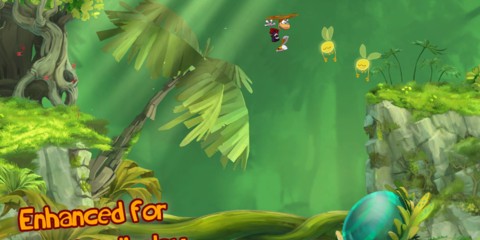 Rayman Jungle Run [$2.99] is now my favorite iOS auto-runner. Granted, I wasn't the biggest fan of the genre, especially those with procedural, unending levels. Luckily, Rayman Jungle Run offers 40 distinct levels that require players to jump, hair-copter float, wall run, and punch or kick their way to the goal. ..
Far cheaper, less sweaty, and more bizarre than any real-world miniature golf course I've played on, Wonderputt [$0.99] is a polymorphic putt-putt painting brought to life by the charming design of Damp Gnat...
Even more punishing than developer Terry Cavanagh's VVVVVV, Super Hexagon [$2.99] is a test of patience and an unending source of arcade adrenaline. All who have attempted Veni Vidi Vici will know the pleasurably painful twitching they are about to endure but with added vertigo...
The Fractal and Pulse: Volume One developer doesn't disappoint in its latest dazzling puzzler Splice: Tree of Life [$3.99 (HD)]. Cipher Prime once again sticks to an iPad-only experience, but it only takes one look at the gorgeously large, 70+ levels to understand why the team opted for the larger touch canvas...