Review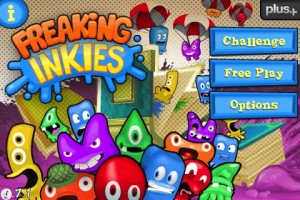 If I were to tell you a game about paint could offer edge-of-your-seat action, I'd expect you to call me mad. And yet here I am, telling you that very thing. Freaking Inkies puts a new spin on the old experience of matching colored items to make them disappear. That new spin? Freaking Inkies is a crazy shooter about destroying monsters with splatters of like-colored paint...
Review
StarStarStarStarNone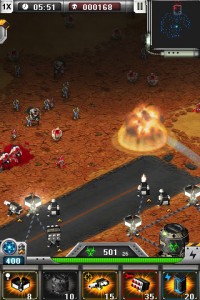 The tower defense genre has had a heavy presence on the iPhone. As a tried-and-true TD enthusiast, it's a fact that I take great pleasure in – but it also means that wave after wave of mundane copycats are cluttering the AppStore. That's why it's such a relief when a TD game comes along that really breaks the mold. BioDefense: Zombie Outbreak may sound like another generic undead-battling TD, but get past the name and you'll discover a frantic exercise in survival unlike anything you've ever played before...
Review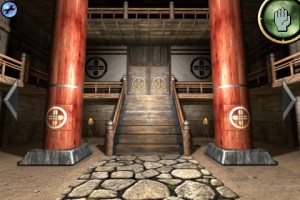 If you didn't manage to get enough feudal Japanese escape-the-room gameplay from the first iEscaper!, you'll be happy to know that the series is back for a second go round. Rather than breaking out of a fortress as you did in the last iEscaper! adventure, this time you'll be breaking in. Your objective? To find the Crystal of Dragon. ..
Review
StarStarStarStarNone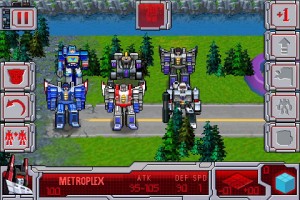 As a child of the 80's I grew up on Transformers. As a mobile strategy fanatic I've been in love with turn-based strategy games for years. It should come as no surprise then that Transformers G1 Awakening ranked pretty high on my most wanted list. But it also ranked fairly high on my list of concerns. After all – Transformers has had countless reinventions over the last few decades, none of which could hold a torch to the series that started it all. Likewise the series has had a number of video game spinoffs, nearly all of which have managed to disappoint. Could a Transformers game released more than 25 years after the series inception possibly live up to the expectations of series purists and strategy fans alike? As mobile gamers first learned in 2008, the answer is a resounding yes...
Review
StarStarStarStarStar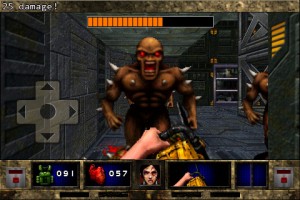 Like Wolfenstein RPG before it, id Software's latest venture into the world of Doom has more in common with turn-based dungeon hacks of the 80's than with the shooter genre from whence it sprang. Don't get me wrong – there are guns aplenty here – but instead of relying on twitch-fingered accuracy and eagle-eyed precision, Doom II RPG [App Store] shifts the series focus to strategy and exploration. It's a strange direction for the franchise to explore, but it works...
Review
StarStarStarStarNone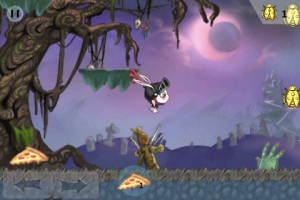 Plushed is a by-the-numbers platformer for the iPhone with exceptional art and some fairly challenging level design.  As the young girl's plush rabbit now brought to life, you'll navigate you way through each level collecting golden ladybugs and helping fairytale folks solve their problems.  One level features a family that has lost their son and some pigs in bales of hay.  Another has crying babies in need of candy.  As a young bunny knight in a fairytale kingdom, it's your job to help these folks as you work your way towards saving your little girl...
Review
StarStarStarStarNone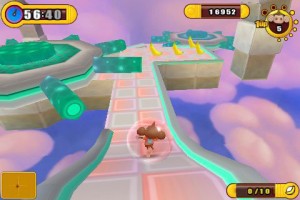 With its monkey rolling, twitch-balancing action, the Monkey Ball series seems like an easy sell on the iPhone. Despite stemming from a console franchise that's been around for nearly a decade, the concept almost feels like it was grown specifically for the iPhone. If anything, this was a series that was waiting for the right platform to come along. But when Super Monkey Ball was released alongside the AppStore launch last summer, the results were anything but super. The controls were poorly executed and the visuals felt like a hand-me-down from the days when 16 bit gaming was trying to step out of 2D – the whole experience just wasn't up to par. Now, 18 months later, Sega gets much closer to delivering the Monkey Ball game that everybody wants. ..
Review
StarStarStarStarNone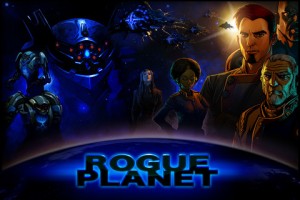 Turn-based strategy games have popped up here and there in the App Store, but none have really gained the traction that games like Advance Wars or Final Fantasy Tactics have on other consoles. With the exception of a small but devoted UniWar following, the iPhone has yet to see a breakthrough success in the world of turn-based battalions. Rogue Planet is looking to change all that. ..
News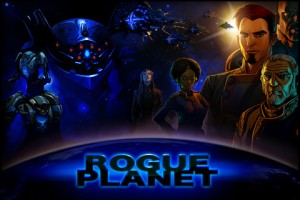 Commanders, get ready for battle! Gameloft has just released the much-anticipated turn-based military sim Rogue Planet to the AppStore, and from what we've played so far we can tell you it's everything we've been hoping for...
Review
StarStarStarStarNone

Pocketball is a fresh new puzzler that takes physics and navigation and wraps them together in a tight little package. In each of Pocketball's 30 stages, you'll need to stretch pieces of rope across different pegs to guide a falling ball to a like colored bin. If there's a blue ball it goes to the blue bin. If there's a green ball it goes to a green bin. You get the idea...
Review
StarStarStarStarNone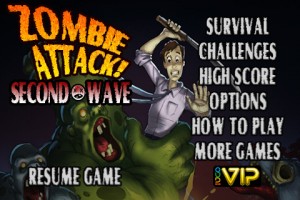 As one of the early tower defense games on the iPhone, Zombie Attack quickly became a cult favorite. The story of one man's survival against a zombie invasion is something we could all get behind. But despite a fresh approach to the genre and all of that undead-hacking fun, the original game ultimately lacked a lot of variety with one small map and only four turret types. Zombie Attack: The Second Wave takes those concerns to heart and offers a vastly superior offering for those looking to fight off a legion of re-animated corpses...