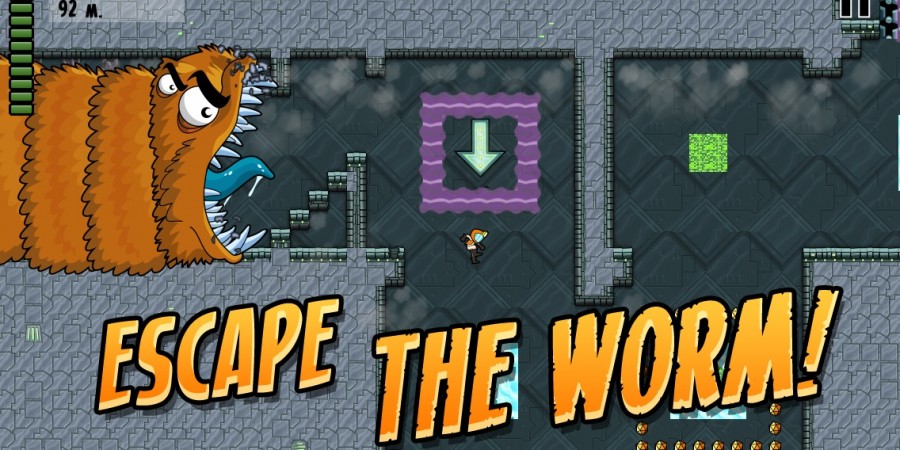 To coin a phrase from a popular comedian, what is the deal with the characters in these running games? Why are they running? What's the rush? You know, you could've snagged that coin tucked away behind that pillar back there if you would've just eased on up to it. The terrified spaceman you play in Worm Run has a valid excuse. He's on the move, and needs to stay that way, because a giant worm is plunging after him, devouring everything in its path. Glance back and you'll see him, eating his way through stone and dirt and steel...
I'm a big fan of survival horror games, especially ones like Amnesia: The Dark Descent and Slender, which provide no means of defending yourself from their boogeymen. You run and hide, or you die. While scoping out upcoming App Store releases late Wednesday evening, I learned about Eyes - The Horror Game , a port of the indie PC title of the same name that promised a similar flight-no-fight experience. On an iPhone...
Sponsor
Remember when the word "port" conjured up terrifying visions of developers taking your favorite arcade game and cramming them into cartridges that spat out blurry graphics and fuzzy sound? Twisted Pixel does, and they know it wouldn't be proper to make gamers revisit those dark days, so they put forth a solid effort teaching their Xbox Live platformer, Ms. Splosion Man , how to speak mobile. Solid, indeed, except for a bothersome implementation of an IAP pay wall...
Arguably the best part of the Sonic the Hedgehog 2 of yesteryear was the Chaos Emerald bonus stages. You remember those, don't you? The camera jumped behind Sonic's shoulder and he hustled forward all on his own while you wove him from side to side to collect rings and dodge obstacles. ..
It's time to take a bite of the reality sandwich. At the end of the day, office worker bees can only put out so many fires and circle back to so many tasks before they need to table their workload and develop a more synergistic flow. What I mean to say, I think, is that you need to loosen your white collar, grab a foreign object, and smash your office to smithereens or risk becoming a lifer who goes postal or, worse, stares mindlessly while muttering about a stapler...
I've been golfing before. The first time I tagged along with my dad. He hit a ball just off a slope. We hopped in the buggy to retrieve it, he told me to lean out and grab it as we rumbled by, I fell out and tumbled down the slope. The second time, I actually played! Just one hole, though. Why? Because golf is boring when you have to, you know, fish your ball out of sand traps and actually walk around. Yep, that's golf: boring at best, painful at worst. Thanks, Dad...
Like many gamers, my three best friends and I have a long-standing gaming tradition. Every holiday, we gather for our perennial New Year's Eve LAN party. In an ideal world, we tear down our gaming rigs on New Year's Eve, drop them off at one friend's house with plenty of space, go to dinner at our favorite Tex-Mex place, and then ring in the New Year over a good 8 to 10 hours of gaming nirvana fueled by salty snacks and sugary drinks...
At first glance, Devil's Attorney might seem like a shameless Phoenix Wright clone. You do play a defense attorney embroiled in courtroom drama, but unlike the naïve and justice-driven Phoenix, Max McMann is the eponymous devil's attorney. His clients did the crime, and they pay him the big bucks to avoid doing the time. Also unlike Phoenix Wright, Devil's Attorney doesn't take you through adventure-game-style investigations and conversations, but breaks down cases into series of turn-based battles...
Look through my game collection and you'll find at least five copies of Mortal Kombat, Doom on assorted media, and more copies of Street Fighter II than Ryu players spam fireballs in a single round. Some games are so nice I've just got to buy them twice. Or more. The iPhone release of Crazy Taxi marks my fourth foray through the boulevards of Sega's imitation San Francisco, and it's still a pretty good game. Granted, the fun is still somewhat hampered by old design decisions, but Crazy Taxi feels good and whole on mobile...
Capcom delights in updating each Street Fighter at least three times before hunkering down to create a new version. Diehard fans rationalize the updates, touting new special moves and under-the-hood improvements. The rest of us shake our heads and hold out for the inevitable next version, or open our wallets and migrate with the rest of the herd. Street Fighter X Tekken marks the third Street Fighter to land on mobile devices, but unlike the previous and most excellent second release, Street Fighter IV Volt , this one's not so easy to recommend...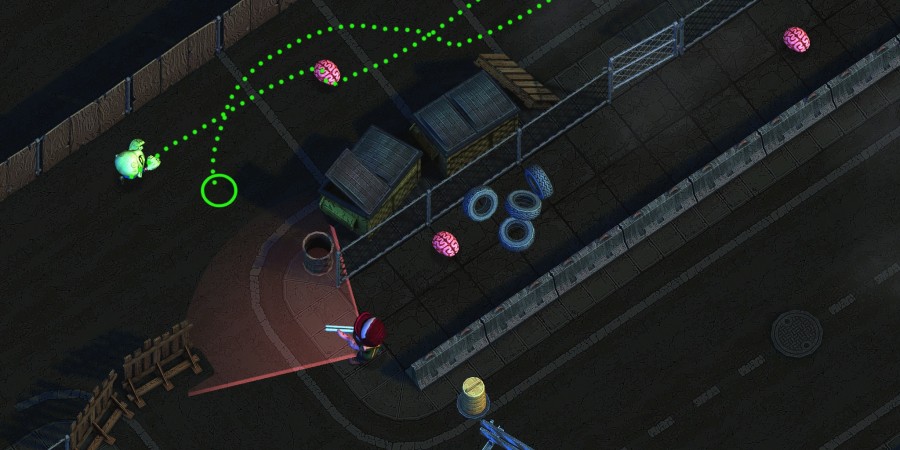 Zombie stories boil down to cat-and-mouse tales, with us human beans unwillingly playing the part of the mice running from all the undead kitties. Plight of the Zombie is a little different. You play as Craig, an average slob who stays home channel-surfing while a zombie apocalypse transpires right outside his window. He decides to venture out for a burger when a zombie shambles in from the side and passes along a severe case of rotting flesh and a healthy appetite for protein. Tragically, Craig can't roam the city munching on brains by himself, because as any student of popular culture knows, zombies are dumb...
SolaRola , a 2D platformer from Square Enix, has a lot going for it. It's charming, accessible, and realistic physics that players manipulate to solve increasingly complex puzzles. Unfortunately, it's also rather bland...
You miss a lot of video games when you're a twelve-year-old kid with a paper route. You miss even more games when you have a mother who insists on sticking half your paycheck in the bank, leaving you roughly $30 a month to divide between Batman comics and cartridges for your Super NES that ran between $60 and $80 apiece. (In fairness, Mom's lesson stuck with me. Did I appreciate Street Fighter II after three months of chucking papers at customers finally earned me a trip to KB Toys? You better believe it.)..
Much like the eponymous film currently raking in millions in ticket sales, The Dark Knight Rises aims for great heights and mostly hits its marks. The game follows and expands on the events that unfold in the final entry in The Dark Knight trilogy film saga, but don't worry: we won't divulge any spoilers for the two of you who haven't seen the movie. All you need to know is a masked terrorist named Bane has bad intentions for the people of Gotham City, and you, being Batman, need to strongly discourage him against those plans...
Deep in the bowels of my local Wal-Mart, past frozen foods and sporting goods and electronics, a heated Bop It! tournament takes place. The competitors: me, and the last sticky-fingered kid who pulled one of the boxed electronic toys off the shelf and pulled, twisted, and bopped his way to a high score. ..