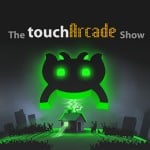 Guys, guess what, I made sure to check my audio settings before recording this week which officially earns me one platinum Flappy Bird medal. This week we talk about the significance of Flappy Bird, the intense themes found inside of the game, and much more. Oh, and cool new games released this week while spending a hefty amount of time talking about dramatic paid to free to play conversions, King's recent activity upping the ante in its trademark wars, and tons more.
If you've been having trouble with our podcast feed, it seems like the way to fix it is by unsubscribing and resubscribing in your podcast management app of choice.
Don't forget to shoot us emails with any questions, feedback, or anything else relevant or irrelevant to podcast@toucharcade.com. We read 'em all, even if they don't make it into the podcast.
As always, you can listen to us with the links below... And if you like what you hear, please subscribe and/or drop us a review in iTunes. Much appreciated!
iTunes Link: The TouchArcade Show
Zune Marketplace: TouchArcade.com Podcasts
RSS Feed: The TouchArcade Show
Direct Link: TouchArcadeShow-142.mp3, 89MB
GAMES
NEWS