Even if you've never heard of the Lone Wolf series of gamebooks written by Joe Dever (with their sporadic publishing history I wouldn't blame you), Joe Dever's Lone Wolf [Free], a new adventure made specifically for mobile platforms, has got a lot of initial punch. While everything seems to start like any other gamebook you've played on iOS, as soon as you reach the first battle of the game, it's clear that this game has got some strong ideas about where to take gamebooks in the future. The 'wow' factor of turning the page to an illustration that comes to life in full 3D can't be underestimated, but in its quest to escape the shackles of its old format, Lone Wolf trips over some very familiar problems inherent to its new one.
Our protagonist is the titular Lone Wolf, a powerful warrior monk with a tragic past. Rockstarn, a small, snowy mining town has gone quiet, and you have to find out what's happened. Spoiler: tragedy! The story of this game is apparently going to roll out in four acts. I'm reviewing the first act alone, because that's all that's available for the moment. The remaining acts will be available within this app as IAP, and at the moment you can pre-purchase the lot for $9.99, with the individual acts likely coming in at $4.99 each as they become available. This act, being the first one, is pretty light on story, quite linear, and has very little in the way of plot resolution. This shouldn't be a problem, provided the remaining acts actually come, but taken on its own, it feels a bit anemic.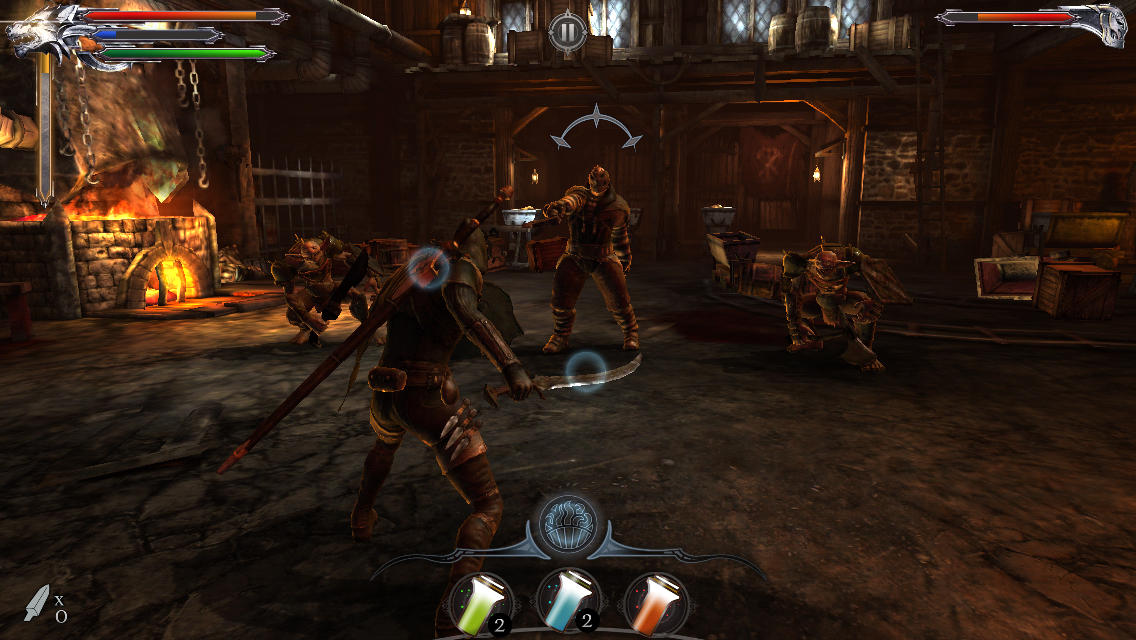 In most respects, this game is like other gamebooks you may or may not have played. You begin by creating your character, and there's quite a bit of customization present here thanks to a hefty list of skills to choose from. You can also choose your starting weapon, and whether you lean more towards strength, intelligence, or dexterity, which affects your starting stats. You'll begin with a small assortment of items, including a few potions for restoring your health, kai power (magic), and endurance, some throwing knives, and a couple of food items you can use outside of battle to replenish your meters. From here it proceeds like a book, of course, with the story being told through text with the occasional picture. At certain points you can choose from a few different actions, with your skill choices and inventory determining exactly what you'll be selecting from. Sometimes, you'll run into monsters, and that's when things get a little different.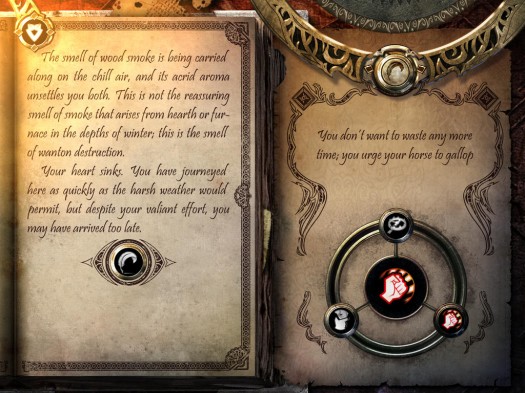 Most gamebooks to date handle combat with virtual dice, a tried and true method that is basically behind the hood of most RPGs, paper or digital. Rolls are made against your stats and the monster's, and the book tells you the outcome. Lone Wolf, on the other hand, seems to ask, "Can we make those action bits a bit more action-like?" So, when a battle starts, you'll have to turn your device on its side, and the monochrome inked illustration will suddenly come to life in full color, in a somewhat unique battle system. On the surface, it feels like Final Fantasy's Active Time Battle system, where each combatant has a meter filling up that determines when they can take their turn, meaning enemies can hammer on you if you take too long to decide what to do. There are quite a lot of available options once your turn comes up, but between your kai and endurance meters and cooldown timers on almost everything, you're going to run into your limits fairly often, so you'll want to choose your actions on each turn very carefully.
Whatever you choose, there's a high chance that you'll have to perform a quick time event (QTE) to complete the action. These run the usual gamut of tapping to fill a meter, tapping with the right timing, swiping in a particular direction, or making a circle. These QTEs are consistent with each action, so once you learn them, you won't be blindsided by them. I can't say the same for the enemy attacks, which will sometimes result in a QTE and sometimes nothing at all. Stay on your toes when the enemy is attacking, even though most of the time you'll be powerless to avoid damage. You're going to take a lot of beatings in this game, which is pretty odd given the relative power difference of Lone Wolf and these enemies according to canon. It's like Superman getting taken out by a mugger.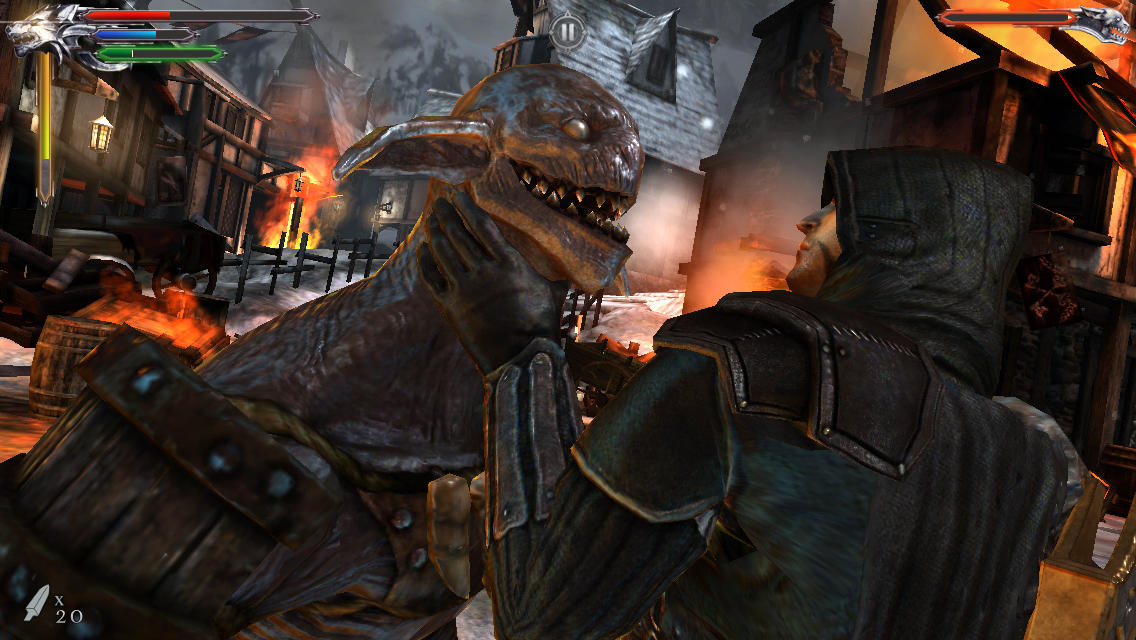 If I had to name a single problem with this game that really hurts it, it's the difficulty. Lone Wolf comes out swinging hard, right from the first fight. There's a tutorial but the game doesn't really give you a chance to get comfortable with how battles work before putting you in very real danger, a situation only exacerbated by the QTE-heavy combat. As I said before, the QTEs are consistent, so you will easily learn what to do in time, but the first couple of battles depend on your fast reactions, and the window of success is somewhat small. This creates a frankly bizarre scenario wherein the first two fights are probably the second- and third-hardest fights of the entire act, and I'd bet most people are going to eat dirt hard on their first go. Should you fall in battle, you have a few options, including a direct rematch, rewinding back to just before the battle, or restarting the battle on easier difficulty, so it's not like the game has no bones to offer you. It's just that it's a bit unforgiving by default and has more of a difficulty valley than a difficulty curve.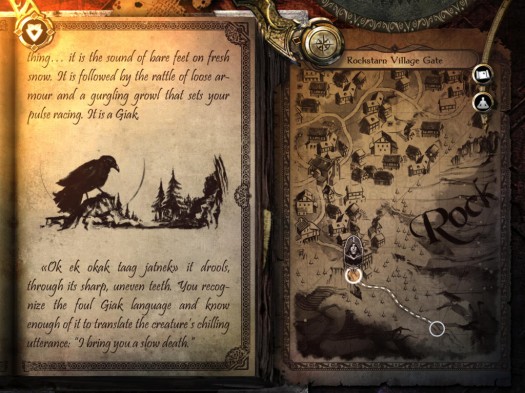 As for the most difficult fight in the game, it is fittingly the final one, but wow, is it all kinds of cheap. I openly confess that in spite of several attempts, I could not make it through without taking the game's mercy and switching to the lower difficulty. The boss stun locks you right off the hop, and I suspect unless you have a very particular build of stats, you're going to run into the same results I did: death, every time, without so much as the chance to take a turn. I'm sure it's doable with the right character build and equipment, but as you can't re-spec, I imagine the boss is going to prove to be quite the brick wall for most. Thankfully, that option to choose the lower difficulty is there, or I'd be a whole lot more annoyed.
The other big problem with Lone Wolf is that it comes off feeling like a demo or a prologue due to a general lack of content. There are only a few types of enemies in the whole thing, and you'll be facing half of them often enough to get very tired of them. There also aren't very many battle backgrounds, leading to odd but tolerable narrative disconnects. It's quite a short adventure, with relatively few places to go and choices to make, and the whole thing wraps up in a couple of hours. That's not terrible for a gamebook, but this game has a lot less replay value than the average gamebook thanks to the aforementioned linearity. You've got a few seemingly-important choices to make, but we don't see any real consequences for any of them.
To top it all off, not much really happens. The whole adventure takes place in the town, and only a few buildings at that, and amounts to what would be a fetch sidequest in most games. I know, it's just the first act, but good episodic storytelling requires each one to tell a satisfying story within the larger narrative, and Lone Wolf fails at that. It's all set-up and no go. The set-up is exhaustive, I'll give it that, but the breadth of the gameplay balanced against the length of the story causes it to feel like I've just played through a tiny sliver that was mercilessly sliced off a larger game with little regard for where it was cutting. For example, there's a seemingly robust crafting and upgrade system, but you'll probably reach the end of the game before you can gather the items to make much use of it. Of course, once the remaining acts hit, your character will carry through, allowing for greater exploration of these systems, but I can only review what's in front of me today, and what's here gives all the satisfaction of going into a steakhouse, taking a lick of a delicious porterhouse, and walking out.
The nice thing about the problems I've talked about here is that they're all fixable, and I'm sure we're going to see better results with the remaining chapters. Lone Wolf has got my attention and I definitely want to see more, because I love what they've set up here in terms of gameplay. I'm genuinely excited to see these interesting new concepts come to a genre that has mostly hung its hat on intentional nostalgia, but while the ideas are exciting, the execution of this particular act isn't, I'm afraid. No other gamebook will give you what this one does gameplay-wise, but Lone Wolf won't give you what any other gamebook will give you content-wise, and that makes it a bit of a hard sell at the moment.
Free
Joe Dever's Lone Wolf
Reviewed by
Shaun Musgrave
on . Rating:
3.5