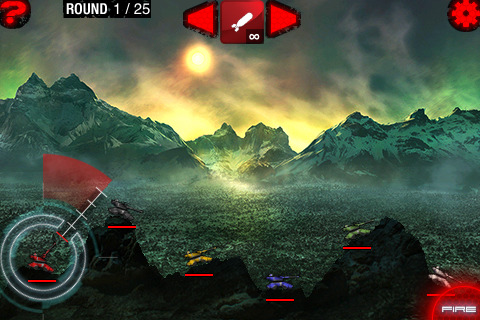 In an effort to boost online gameplay, Dot Matrix has organized a TouchArcade Frag Fest tournament night for their online-multiplayer artillery game KIL.A.TON. KIL.A.TON is a first rate artillery game with simultaneous rather than sequential battles. This results in more intense action as well as a twist in strategy. If you're not familiar with the game, check out our review of the game back in August.
Details of the event:
The event will run tonight (10/29) from 9pm-3am EDT / 6pm-12am PDT
Games played during the event will earn double XP for all players
The Frag Fest will use kills as the basis for player rankings
Results will be kept in a unique tournament table, to track all players
Once the tournament is complete, a "Championship" table will be created to track winners (1st, 2nd 3rd places)
These regular Thursday night tournaments were suggested by one of our forum members, and seems a great idea to have leverage the TouchArcade community. So if you have the game, come join in tonight. We'll try to continue this and other designated game nights in the future.
App Store Link: KIL.A.TON, $2.99