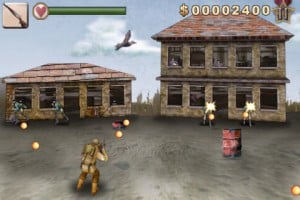 I generally don't like tap-to-shoot games because I've found little satisfaction in the ones I've tried... until I came across WWII Alone [App Store]. This crazy and addicting game caught me by surprise in terms of the fun and downright entertaining gameplay, and those that aspire to develop future tap-to-shoot games should look at WWII Alone and how its structured.
Set in WWII, you're a lone soldier that must battle through six missions filled with a barrage of enemy troops and attack vehicles with three boss battles mixed in. The objective of the game is to clear the missions and earn money to upgrade weapons with WWII Alone's perk system. Visually, the devs have created an effective layout that allows the player to take full advantage of the chaos that occurs in the game.
Available perks (or upgrades) include additional grenades, life, machine gun and rifle damage, and shooting distance. The game keeps a running tally of the money earned even in failed missions so you will gradually add to your total. Part of the replayability with WWII Alone is that you can go back to previously completed missions and earn additional money there as well as improving your time.
In terms of controls, everything is done by touch, and they are very responsive. Simply tap the target to shoot, and tap along the bottom of the screen to move your soldier left to right. Everything in the screen can be destroyed so buildings, planes and submarines are fair game.
WWII Alone is done well because the devs paid attention to the details. While the game could use additional levels, the graphics are done well, and the perk system offers a good incentive for replayability. The game is entertaining in both short and more engaging gaming sessions, and you'll find it offers really does offer addictive gameplay. It's definitely one that I hope rises above the noise of the iTunes store.
App Store Link: WWII Alone, $0.99
This review was written by Big Albie, a guest contributor at TouchArcade. Big Albie is a regular on our forums who provides the community his first impressions on many of the new games being released in the App Store. Slightly more in-depth notes on this game can be found here.