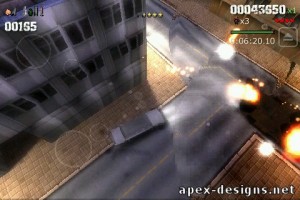 Last month we reviewed Grand Theft Auto-like Payback for the iPhone and iPod touch.  We found it to deliver the essence of the experience that is Grand Theft Auto and Grand Theft Auto II to the iPhone platform.
A few days back, developer Apex Designs released a version 1.1 update to Payback that brings the following enhancements:
Significantly improved minimap - now much clearer and also shows the location of nearby cops
Added a more 3D camera angle (optional, but enabled by default)
Rewind back to the start of the current mission at any time
Added in-game instructions
Funky new icon
New cop car model
Display now rotates depending on device orientation
And just now (it hasn't landed in every country's App Store as of this writing) a free 'lite' version of the game [link] has made its App Store debut.
The developer has released a new trailer that shows some of the v1.1 features.
App Store Link: Payback, $4.99, Payback Lite, Free