The remarkable success of Ethan Nicholas' iShoot Lite [App Store] seems to have inspired many developers to deliver free/lite versions of their own games. Here are some notable free/lite versions of games we've covered in the past and feel are definitely worth a try. App titles link directly to the app store.
Alien Mangle

Alien Mangle Lite - While the full game is a little rough around the edges, it provides a somewhat satisfying experience. And with the dearth of first person shooters on the iPhone, it's certainly worth a shot. See our review and gameplay video.
The Creeps!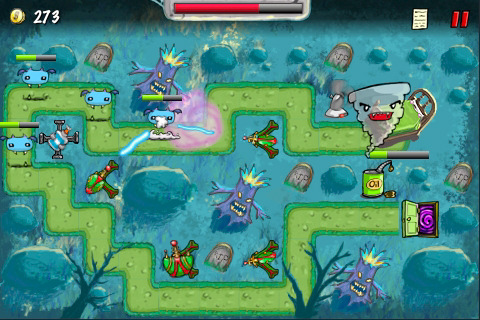 The Creeps Lite - The full game ranks amongst our favorite Tower Defense games and offers some unique gameplay features. The colorful graphics and new sound effects add to the overall package. See our review and gameplay video
Space Ninja

Space Ninja Lite - Defying traditional categorization, this "dodging" game offers great controls in a fun game. Even if you find no interest in this type of game, we still highly recommend downloading the lite version to experience the "bullet time" slow motion and well executed gameplay. See our previous review and gameplay video.
Ivory Tiles
Ivory Tiles Lite - Another great iPhone experience. This is a puzzle game with excellent graphics and controls. Move the tiles to the proper location if you can. Another "must have" lite version just to experience the overall package. See our previous review and gameplay video. For those who have already completed Ivory Tiles, the developer has released a followup game called Shift [$2.99] which offers the same basic gameplay with 70 new levels.
7 Cities TD

7 Cities Lite - Some feel this Tower Defense game to be the best in the App Store. See our previous coverage and video.